Summary
Current Position: US Senator since 1981
Affiliation: Republican
Former Position(s): State Senator from 1975 – 1981; State Delegate
Featured Quote: 
Does Biden want an Iranian agreement so bad that he can't condemn Iran when they attempt to kidnap a UScitizen MsAlinejad who is fighting human rights in Iran. We must standup for the human rights we espouse
Featured Video: 
Chuck Grassley Mocks 'Washington Elites' For Their Response To Inflation
News
i
BUTLER COUNTY, IOWA – Sen. Chuck Grassley (R-Iowa), ranking member of the Senate Judiciary Committee and co-chairman on the Senate Caucus on International Drug Control, issued the following statement regarding the Biden Administration's proposal to control deadly fentanyl-like drugs.
"For months, I've been 
calling on the Biden administration
 to get serious about combatting fentanyl knockoffs, which led to a record number of overdose deaths in the United States last year. The plan, released mere weeks before a temporary scheduling authority expires, sets us up for a rushed process that doesn't allow for the methodical review that this issues demands. While the plan provides some greater certainty on how deadly fentanyl-like substances will be controlled, it appears that the Biden Administration cares more about avoiding new penalties than holding drug traffickers accountable for fueling an opioid epidemic that continues to destroy families and erode communities across the country," 
Grassley said
.
U.S. Sen. Chuck Grassley is asking the U.S. Department of Veterans Affairs to answer questions about its oversight of nursing homes for veterans.
Care facilities for veterans are federally supported, but are owned and managed by the states, with inspections and oversight handled by the states and by the Centers for Medicare and Medicaid Services.
But in 2019, the Government Accountability Office found that the VA wasn't collecting complete information on all deficiencies within those homes and wasn't capable of tracking that information to identify any trends related to quality in those facilities.
Grassley now says the VA needs to respond to questions about its oversight of the veterans' homes.
Twitter
About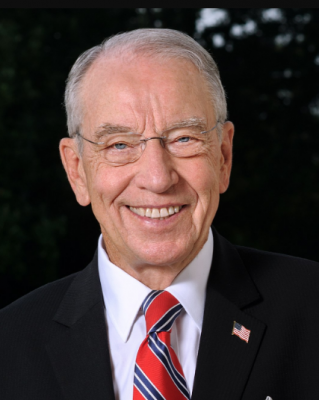 Source: Government page
Iowans have placed their trust in Chuck Grassley to serve as one of Iowa's U.S. senators since 1981. By every measure, Senator Grassley works tirelessly to earn that trust.
With uncommon tenacity, Senator Grassley brings grit and integrity to the nation's capital where he has developed a reputation for independence and relentless oversight to make the government work for the people it serves, not the other way around.
He authored the historic "Congressional Accountability Act" that required workplace laws to be applied to Congress and secured amendments to the "Affordable Care Act" to make the sweeping health care overhaul apply to members of Congress.
Senator Grassley was sworn in as Senate president pro tempore for the 116th Congress, which places him third in the presidential line of succession. He leverages his seniority in the United States Senate to build bipartisan coalitions and advance a conservative agenda to improve opportunity and prosperity for more Americans. As the chairman of the Senate Finance Committee, Senator Grassley continues vigorous congressional oversight of the executive branch to make sure the federal government does its job. He is also building upon his longstanding record to work across the aisle to solve problems. Specifically, Chairman Grassley has announced his list of priorities includes improving the lives of Americans through better trade, health care and tax policies.
During his four-year chairmanship of the Senate Judiciary Committee, Senator Grassley shepherded a historic 85 federal judges through the Senate's advice and consent authority for lifetime appointments to the federal bench, including two Supreme Court Justices. His signature legislative achievement as chairman of the Judiciary Committee was landmark, bipartisan criminal justice reform called the First Step Act. It passed the Senate 87-12 and was signed into law in December 2018.
In all his work, Senator Grassley puts the needs of Iowans first.
Known for his reputation for hard work and constituent service, Senator Grassley holds the longest consecutive voting streak in Senate history. Senator Grassley hasn't missed a vote since 1993, when he was in Iowa helping constituents respond to the devastating flooding.
He places a high priority on constituent services, helping Iowans cut red tape and navigate federal services, from Social Security to veterans' benefits.
Senator Grassley has conducted at least one meeting in each of Iowa's 99 counties every year since his public service began in the U.S. Senate.  He says "dialogue is the essence of representative government" and that's why he keeps his commitment to keep in touch with Iowans by every means available. He responds to every phone call, letter, and email from Iowans, and communicates extensively via social media (Facebook, Instagram, Twitter, website) to connect directly with constituents. Senator Grassley also prioritizes accessibility with journalists as another vital means to communicate and hold himself and government accountable to Iowans.
Countless congressional hearings, policy debates and constituent feedback shape Senator Grassley's expansive legislative expertise for Iowa's benefit. For policies impacting health care, taxes, trade, transportation, agriculture, renewable energy, criminal justice, elder justice, foster care, illegal drugs, human trafficking, the federal budget, patent reform, education, national security and the federal judiciary, Chuck Grassley works to make a difference for Iowans.
No matter which political party controls Congress or the White House, Senator Grassley conducts robust oversight of the federal bureaucracy and expects answers from the executive branch. He says transparency is an effective and crucial tool for holding government accountable.
Senator Grassley has been referred to as the patron saint of whistleblowers for his efforts to strengthen protections to help those who come forward to report wrongdoing. The Grassley amendments to the "False Claims Act" have been used effectively to recover more than $56 billion to the U.S. Treasury. His IRS whistleblower reforms have restored more than $3 billion to federal coffers. His guardianship of good government extends beyond dollars and cents. His work to support whistleblowers who shine light on waste, fraud and abuse has helped to expose misconduct and clean up wrongdoing at the FBI, the Secret Service, the Pentagon, the U.S. Marshals Service, the IRS, Veterans Affairs and more. Senator Grassley is co-chairman and co-founder of the bipartisan Senate Whistleblower Protection Caucus that advocates for enforcement and expansion of whistleblower protection laws.
A lifelong family farmer, Senator Grassley brings a reality check to the policymaking tables when it comes to American agriculture. From the farm bill, to trade, taxes, energy, health care, bankruptcy and the federal regulatory regime, Senator Grassley is a fierce advocate for farmers and families who live and work in Rural America.
Iowa's energy and economic landscape have benefited tremendously from federal renewable energy policies that Senator Grassley has worked to secure into law. Due in large measure to his advocacy and leadership, Iowa's alternative energy portfolio has triggered tremendous investment in corn-based ethanol and next generation cellulosic ethanol, soy-diesel, wind energy and more.
Clean energy drives economic growth, job creation, broadens the tax base, adds value to crops and farmland and attracts new investment to Iowa for business and industry seeking affordable, clean energy. Iowa now produces more than one-third of its electricity from wind. That puts Iowa first in the nation to achieve this clean energy milestone.
Senator Grassley's work as a good government watchdog benefits from a no-nonsense commitment to truth and transparency for the taxpaying public. He champions the public's right to know and pushes for stronger Freedom of Information laws and supports independent inspectors general and legislation to allow cameras in federal courtrooms.
When he gets a whiff of potential wrongdoing, Senator Grassley sinks in his teeth and digs in his heels to get answers. For example, his work to ensure federal health programs effectively serve taxpayers, patients and providers includes his oversight of overpayments for widely prescribed pharmaceuticals including EpiPen, Dilaudid and Prilosec. Working to keep the spotlight shining on the misclassification of prescription drugs is fueled by the egregious overcharges on the taxpayers' dime and his efforts to recoup reimbursement to taxpayers. From 2006 to 2016, taxpayers may have overpaid $1.27 billion for EpiPen alone. Many Iowans often share personal stories of financial hardship from sticker shock when they fill their prescription medicines. Senator Grassley is working to restore competition to help drive down prices with bipartisan legislation that would stop brand name pharmaceutical companies from engaging in deceptive agreements that prevent or delay lower-cost generics from entering the market.
Senator Grassley's creed of ethics and accountability gives Iowans strong and effective leadership. He works to ensure the laws passed by Congress are faithfully executed and our system of checks and balances is functioning as the Founders intended. Senator Grassley keeps close tabs on the enforcement of immigration laws enacted to uphold U.S. sovereignty, ensure border security and protect the safety of Americans. Following the death of Iowan Sarah Root, who was killed by a drunk driver living illegally in the country, Senator Grassley introduced legislation to strengthen enforcement and increase penalties for violators of U.S. immigration laws that result in the death of or serious injury to a U.S. citizen.
Using his key committee assignments to benefit Iowans, Senator Grassley works to lessen excessive regulatory and tax burdens that make it harder for families to get ahead and stay ahead. Our nation's founders established a constitutional framework for economic freedom, innovation and opportunity to limit government's role in society. His work on the Senate Budget and Finance committees is driven by an acute understanding that Washington can't spend, tax and borrow America's way to prosperity.
Chuck Grassley's extraordinary work ethic is hardwired for public service and his determination to protect the blessings of freedom for all Americans to enjoy "life, liberty and the pursuit of happiness."
Voting Record
Caucuses 
Senate Republican Conference
Offices
CEDAR RAPIDS
111 7th Avenue SE, Box 13
Suite 6800
Cedar Rapids, IA 52401
PHONE: (319) 363-6832
FAX: (319) 363-7179
COUNCIL BLUFFS
307 Federal Building
8 South 6th Street
Council Bluffs, IA 51501
PHONE: (712) 322-7103
FAX: (712) 322-7196
DAVENPORT
201 West 2nd Street
Suite 720
Davenport, IA 52801
PHONE: (563) 322-4331
FAX: (563) 322-8552
DES MOINES
721 Federal Building
210 Walnut Street
Des Moines, IA 50309
PHONE: (515) 288-1145
FAX: (515) 288-5097
SIOUX CITY
120 Federal Building
320 6th Street
Sioux City, IA 51101
PHONE: (712) 233-1860
FAX: (712) 233-1634
SIOUX CITY
120 Federal Building
320 6th Street
Sioux City, IA 51101
PHONE: (712) 233-1860
FAX: (712) 233-1634
WATERLOO
210 Waterloo Building
531 Commercial Street
Waterloo, IA 50701
PHONE: (319) 232-6657
FAX: (319) 232-9965
WASHINGTON D.C.
135 Hart Senate Office Building
Washington, D.C. 20510
PHONE: (202) 224-3744
FAX: (202) 224-6020
Experience
Work Experience
Member/ Representative
Iowa House of Representatives
1959 to 1974
Member/ Representative
U.S. House of Representatives
1975 to 1981
Education
Personal
Birth Year: 1933
Place of Birth: New Hartford, Iowa
Gender: Male
Race(s): Caucasian
Spouse:  Barbara Speicher
Children: Lee, Wendy, Robin, Michele, Jay
Membership & Affiliation
Farm Bureau, the Butler County and State of Iowa Historical Societies, Pi Gamma Mu, Kappa Delta Pi, International Association of Machinists 1962-71, Masons, Eagles, Baptist Church
Contact
Email:
Offices
Washington D.C. Office
135 Hart Senate Office Building
Washington, D.C. 20510
Phone: 202-224-3744
Fax: 202-224-6020
Des Moines Office
721 Federal Building
210 Walnut Street
Des Moines, IA 50309
Phone: 515-288-1145
Fax: 515-288-5097
Web
Government Page, Twitter, Facebook
Politics
Source: none
Campaign Finance
Open Secrets – We Follow the Money
Voting Record
VoteSmart – Key Votes & Ratings
Search
Wikipedia Entry
Charles Ernest Grassley (born September 17, 1933) is an American politician serving as the president pro tempore emeritus of the United States Senate, and the senior United States senator from Iowa, having held the seat since 1981. He is in his seventh Senate term, having first been elected in 1980.
A member of the Republican Party, Grassley served eight terms in the Iowa House of Representatives (1959–1975) and three terms in the United States House of Representatives (1975–1981). He has served three stints as Senate Finance Committee chairman during periods of Republican Senate majority.[1][2] When Orrin Hatch's Senate term ended on January 3, 2019 following his retirement, Grassley became the most senior Republican in the Senate, and he served as the president pro tempore of the United States Senate from 2019 to 2021.[3][4]
Grassley is one of the only two remaining U.S. Senators to have served during the Presidency of Jimmy Carter, the other being Patrick Leahy of Vermont.
During his four decades in the Senate, Grassley has chaired the Senate Finance Committee, the Senate Narcotics Committee, the Senate Judiciary Committee, and the Senate Aging Committee.
Early life and career
Grassley was born in New Hartford, Iowa, the son of Ruth (née Corwin) and Louis Arthur Grassley,[5] and raised on a farm. He graduated from the town high school. At Iowa State Teachers College (now the University of Northern Iowa), he earned a B.A. in 1955 and an M.A. in political science in 1956. During his time as a student, Grassley joined the social-professional Alpha Gamma Rho fraternity.[6] Also during the 1950s, Grassley farmed and worked in factories in Iowa, first as a sheet metal shearer and then as an assembly line worker. He pursued a Ph.D. in political science at the University of Iowa, but ultimately did not complete the degree. From 1967 to 1968, Grassley taught at Charles City College.[7]
Grassley represented parts of Butler County in the Iowa House of Representatives from 1959 to 1975.[7] He then served in the United States House of Representatives from 1975 to 1981.[8]
U.S. Senate
Tenure
1980–1989
In November 1981, Grassley was one of 32 senators to sign a letter to President Reagan supporting Director of the Office of Management and Budget David Stockman.[9] In August 1982, while the Reagan administration tried persuading senators to approve legislation authorizing the creation of a radio station for broadcasting to Cuba, Grassley joined fellow Iowa senator Roger Jepsen and Edward Zorinsky in seeking an amendment to the bill barring the Reagan administration from operating Radio Marti on that frequency or other commercial AM frequencies.[10]
In October 1983, Grassley voted against establishing a legal holiday to commemorate Martin Luther King Jr.'s birthday.[11] In 2015, an aide to Grassley said that he voted against the holiday due to an "economic decision both in the cost to the broader economy in lost productivity, and the cost to the taxpayers with the federal government closed."[12] In 2004, Grassley co-sponsored legislation giving King a posthumous award, which became law on October 25 that year.[13][14]
On November 1, 1984, Grassley signed a one-page citation of contempt of Congress against Attorney General William French Smith due to Smith's not turning over files on an investigation into Navy shipbuilding. Assistant Attorney General Stephen S. Trott called the citation "out of place" since Grassley was not acting at a session of the Judiciary panel he led.[15]
In May 1987, the Senate Appropriations Committee defeated an attempt by Grassley to hasten payments of corn and other feed grain subsidies ahead of the scheduled payment taking place after October 1. The Grassley measure was also designed to unravel an accounting device lawmakers used previously to make it appear that they were reducing spending for the incoming fiscal year.[16] In October, during a press briefing, Grassley accused Reagan of being "asleep at the switch" and botching the handling of Robert Bork's Supreme Court nomination, adding that Bork's nomination had convinced him that the Reagan administration "has been terribly lucky for the last seven years" in other matters, including the economy and foreign policy.[17] Later that month, Grassley likened the groups lobbying against Bork's nomination to the McCarthyism of the 1950s: "The big lie is standard operating procedure for some of these groups. All you have to do is repeat the same outrageous charges, and repeat them so often that people believe they are true."[18] In November, as party leaders of the Senate Judiciary Committee met on the Supreme Court nomination of Douglas H. Ginsburg, Grassley released the text of a letter he intended to send to the American Bar Association suggesting the association was dragging its feet in reviewing Ginsburg's record.[19] After Ginsburg admitted having smoked marijuana, Grassley said, "You like to think people who are appointed to the Supreme Court respect the law."[20] Grassley joined Jesse Helms in resisting the nomination of Anthony Kennedy, Reagan's next choice for the Supreme Court, saying that he would have preferred another nominee such as appeals court justices Pasco Bowman II or John Clifford Wallace.[a] Grassley stated his distaste for "the people who are committed to changing the judiciary" and taking "the path of least resistance."[23]
In January 1989, as the Senate voted to schedule a vote within the following month on the pay increase, Grassley questioned how senators would decline federal program increases "come March and April if the first thing out of the box is a pay raise?"[24] In February, he was one of six senators to testify against the 50% pay increase scheduled to take effect the following week.[25] In October, Grassley was one of nine senators to vote against legislation intended to outlaw flag burning and other forms of flag defacement and joined Bob Dole and Orrin Hatch, the other two Republicans to vote against the bill, in voicing a preference for a constitutional amendment.[26]
1990–1999
In January 1991, Grassley was one of only two Republican senators to vote against joining the international coalition to force Iraq out of Kuwait, the other being Mark Hatfield of Oregon.[27] In August 1991, he became one of six Republicans on the Select Senate Committee on POW-MIA Affairs that would investigate the number of Americans still missing in the aftermath of the Vietnam War following renewed interest.[28] In July 1998, President Bill Clinton listed Grassley among the members of Congress who had made it possible "for me to sign into law today the Internal Revenue Service Restructuring and Reform Act."[29] On February 12, 1999, Grassley was one of 50 Senators to vote to convict and remove Bill Clinton from office.[30]
2000–2009
In May 2001, Grassley met with Democratic senator Max Baucus over the allocation of finances in tax cuts and both reported they were making progress in reaching a bipartisan deal, Grassley adding that the bill would contain all four of the main elements proposed by the Bush administration and the Senate Finance Committee would modify the components of the Bush proposal.[31]
In August 2002, Grassley sent a letter to president and chief executive of the United Way of America Brian Gallagher requesting a detailed explanation on the overseeing of both finances and management of the organization's affiliates. Grassley also wrote to chief executive of the United Way of the National Capital Area Norman O. Taylor in regards to allegations of affiliates misappropriating money as well as withholding information the board needed to allow its conducting of oversight.[32]
As a senior member of the Senate Finance Committee, Grassley has spearheaded many probes into alleged misuse and lack of accountability of federal money. In July 2007, a Grassley-commissioned report was released claiming that more than US$1 billion in farm subsidies were sent to deceased individuals.[33] Grassley was called a "Taxpayer Super Hero" in 2014 by the Council for Citizens Against Government Waste. He received a 100 percent rating from the group that year and has a lifetime rating of 78 percent.[34] Grassley was ranked the 5th most bipartisan Senator of the 114th United States Congress and the 7th most bipartisan Senator in the first session of the 115th Congress by the Bipartisan Index, a metric created by the Lugar Center for the Lugar Center and Georgetown's McCourt School of Public Policy to rank members of the United States Congress by their degree of bipartisanship.[35][36]
In February 2004, Grassley released an internal report composed by the FBI in 2000 that examined 107 instances of either serious or criminal misconduct by its agents over a 16-year period. In a letter to the FBI, Grassley called the report "a laundry list of horrors with examples of agents who committed rape, sexual crimes against children, other sexual deviance and misconduct, attempted murder of a spouse, and narcotics violations, among many others" and added that the report's findings raised questions about whether the FBI handled agents "soon enough and rigorously enough".[37]
On June 28, 2006, Grassley proposed legislation[38][39] intended to curb sex trafficking and sexual slavery in the United States by means of strict enforcement of tax laws, for example by requiring a W-2 form be filed for each prostitute managed by a pimp or other employer.
Since 1976, Grassley has repeatedly introduced measures that increase the level of taxation on American citizens living abroad, including retroactive tax hikes. Grassley was eventually able to attach an amendment to a piece of legislation that went into effect in 2006, which increased taxes on Americans abroad by targeting housing and living incentives paid by foreign employers and held them accountable for federal taxes, even though they did not currently reside in the United States. Critics of the amendment felt that the move hurt Americans competing for jobs abroad by putting an unnecessary tax burden on foreign employers. Others felt that the move was only to offset the revenue deficit caused by domestic tax cuts of the Bush Administration.[40][41][42]
In March 2009, amid a scandal that involved AIG executives receiving large salary bonuses from the taxpayer-funded bailout of AIG, Grassley suggested that those AIG employees receiving large bonuses should follow the so-called 'Japanese example', resign immediately or commit suicide. After some criticism, he dismissed the comments as rhetoric.[43][44][45]
In May 2009, Grassley cosponsored a resolution to amend the US Constitution to prohibit flag burning.[46]
When President Barack Obama and the Democratic Party proposed a health reform bill featuring mandated health insurance, Grassley opposed the health insurance mandate, saying that it was a deal breaker.[47] In response to an audience question at an August 12, 2009, meeting in Iowa, about the end-of-life counseling provisions in the House health care bill, H.R. 3200, Grassley said people were right to fear that the government would "pull the plug on grandma."[48][49][50][51] Grassley had previously supported covering end-of-life counseling, having voted for the Medicare Prescription Drug, Improvement, and Modernization Act of 2003, which stated: "The covered services are: evaluating the beneficiary's need for pain and symptom management, including the individual's need for hospice care; counseling the beneficiary with respect to end-of-life issues and care options, and advising the beneficiary regarding advanced care planning."[52] In December 2009, he voted against the Patient Protection and Affordable Care Act (commonly called Obamacare or the Affordable Care Act). It was later reported that Grassley had notified Obama that he would vote against the Affordable Care Act even had the bill been modified to include all of the proposed modifications Grassley had proposed.[53]
2010–2020
In January 2010, Grassley was one of seven Senate Republicans to sign a letter warning the White House about their serious reservations with Director of the Transportation Security Administration nominee Erroll Southers due to conflicting accounts Southers gave the Senate about his previous tapping of databases for information about his ex-wife's boyfriend in the late 1980s.[54]
In December 2010, Grassley was one of 26 senators who voted against the ratification of New START,[55] a nuclear arms reduction treaty between the United States and Russian Federation obliging both countries to have no more than 1,550 strategic warheads as well as 700 launchers deployed during the next seven years along with providing a continuation of on-site inspections that halted when START I expired the previous year. It was the first arms treaty with Russia in eight years.[56]
In April 2013, Grassley opposed a gun control amendment authored by Senators Joe Manchin and Pat Toomey, and instead proposed alternative legislation to increase prosecutions of gun violence and increase reporting of mental health data in background checks.[57]
On March 9, 2015, Grassley was one of 47 senators to sign a letter to Iran led by Tom Cotton to rebuke the Joint Comprehensive Plan of Action.[58] In June 2015, Grassley introduced legislation to help protect taxpayers from alleged abuses by the Internal Revenue Service. The legislation was proposed in response to recent events involving alleged inappropriate conduct by employees at the IRS but was opposed by Democrats.[59]
Since first taking office in 1981, Grassley has held public meetings in all of Iowa's 99 counties each year, even after losing honorarium payments for them in 1994.[60] This has led to the coinage of the term "full Grassley," to describe when a United States presidential candidate visits all 99 counties of Iowa before the Iowa caucuses.[61]
In 2018, Grassley suggested that no women were serving on the Senate Judiciary Committee because of the heavy workload.[62] The following week, Grassley added that he would "welcome more women" to serve on the Committee "because women as a whole are smarter than most male senators. And they work real hard, too."[63]
In July 2018, after President Donald Trump nominated Brett Kavanaugh to the Supreme Court,[64] Grassley lauded Kavanaugh as "one of the most qualified Supreme Court nominees to come before the Senate",[65] and said that critics of Kavanaugh should lessen their confidence in how he would vote given past surprises in voting by members of the Court.[66]
In 2016, Senate Republicans refused to consider Obama's nomination of Merrick Garland to the Supreme Court. At the time, Grassley said that the "American people shouldn't be denied a voice" in the nomination, which was "too important to get bogged down in politics". In 2020, after a Supreme Court vacancy arose due to Justice Ruth Bader Ginsburg's death, Grassley supported a prompt vote on Trump's nominee, backing the decision of "the current chairman of the Judiciary Committee and the Senate Majority Leader".[67]
2021
Grassley was participating in the certification of the 2021 United States Electoral College vote count when Trump supporters stormed the U.S. Capitol. He was removed from the Senate chamber and taken to a secure location when rioters entered the building.[68] In the wake of the attack, Grassley said that Trump "displayed poor leadership in his words and actions, and he must take responsibility."[69] He said efforts to impeach Trump would risk "further disunity" and that "the country must take steps to tone down political rhetoric and mend divisions."[70] In response, The Gazette editorial board wrote that Grassley and other Iowa Republicans "must reckon with why they did the wrong thing for so long."[71] He has not said whether he will run for reelection in the 2022 United States Senate election in Iowa, but a majority of Iowans have said they do not want him to.[72]
Senate record for consecutive votes
As of November 2015, Grassley had cast 12,000 votes,[73] and as of July 2012, he had missed only 35 votes in his Senate career.[74] In January 2016, he set a record for the most time without a missed roll-call vote, having not missed one since July 1993, when he was touring Iowa with President Bill Clinton to survey flood damage.[75] In November 2020, this streak came to an end after over 27 years and 8,927 votes[76] when he quarantined after being exposed to COVID-19.[77] Grassley broke Senator William Proxmire's record for most time without a missed vote, but Proxmire holds the record for most consecutive roll-call votes, with 10,252.[75]
Committee assignments
Caucus membership
Political positions
Abortion
Grassley has stated that he considers himself to be pro-life and has expressed concern regarding the potential for abortions to be paid for with federal funds.[78] In December 1981, Grassley voted for a proposed constitutional amendment by Orrin Hatch that would allow both Congress and the states to ban or regulate abortion.[79] In 2019, he co-sponsored reintroducing the Pain-Capable Unborn Child Protection Act.[80]
Agriculture
In April 2019, Grassley was one of seven senators to sign a letter led by Debbie Stabenow and Joni Ernst to United States secretary of agriculture Sonny Perdue urging the Agriculture Department to implement conservation measures in the 2018 Farm Bill "through a department-wide National Water Quality Initiative, which would build off the existing initiative housed at the Natural Resource Conservation Service."[81]
Energy and environment
Grassley has expressed concern about the impact of regulations by the Environmental Protection Agency on farming.[82] He stated that it has a "public relations problem" with "the ethanol industry, corn farmers and [himself]".[83] He also stated that the EPA has "screwed" farmers with 31 biofuel exemptions.[84] On December 19, 2019, after the EPA withdrew a new Renewable Fuel Standard (RFS) rule, Grassley criticized the EPA for "playing games and not helping President Trump with farmers".[85]
In 1992, Grassley authored EPACT 1992, which created the federal wind energy tax credit.[86]
In 2005, Grassley authored the tax title of EPACT 2005 when he was chairman of the Senate Finance Committee.[87] On June 28, 2005, he voted for the bill.[88] On June 19, 2007, Grassley helped expand tax incentives that produces energy from alternative sources including ethanol, wind, biomass, and biodiesel.[87] On June 21, 2007, Grassley voted for the Energy Independence and Security Act of 2007, which expanded other energy tax incentives through 2013.[89][87]
In September 2015, Grassley received the Dr. Harold D. Prior "Friend of Iowa Wind Energy" award from the Iowa Wind Energy Association for his commitment to supporting wind energy development in Iowa.[90]
In 2017, the Environmental Working Group stated that Grassley received $367,763 in grain commodity subsidies over 21 years.[91]
Grassley supports federal ethanol subsidies.[92]
In 2017, regarding the Paris Agreement, Grassley stated that "unequal terms put the U.S. economy at a significant disadvantage while letting large economies like China's and India's off the hook."[93] Grassley also stated that he didn't like that the agreement was never voted upon by the Senate.[94]
Estate taxes
Grassley is in favor of repealing the estate tax, which is a tax on inherited assets above $5.5 million for individuals and $11 million for couples.[95][96] He has argued that the estate tax is potentially ruinous for farmers and small business owners.[96] According to the Des Moines Register, Grassley's argument does not "match the reality found in federal tax data – particularly for Iowa. The estate tax applies to around 5,000 taxpayers across the entire country each year, and very few of them come from Iowa. Of the Iowans subject to the tax, only a fraction are actually farmers, and a vanishingly small number of them face a tax bill requiring them to sell off farmland or other assets… The number of small businesses impacted by the estate tax is similarly small."[96]
Gun law
In 2010, Grassley had an "A" rating from the National Rifle Association (NRA).[97] According to a source from Splinter News, Grassley received $9,900 from the NRA during his 2016 election.[98]
Grassley is a staunch believer that gun laws will not prevent gun deaths or gun-related violence without improved mental health care.[99] Grassley opposed the Manchin-Toomey gun control amendment, and instead proposed alternative legislation to increase prosecutions of gun violence and increase reporting of mental health data in background checks.[57]
In 2016, one month after the Orlando nightclub shooting, Grassley proposed legislation to expand state-to-state access to background check data and to make it illegal for government officials to sell criminals guns as part of sting operations. Both proposals were rejected by the Senate.[100] Additionally, he voted against the Democrats' Feinstein Amendment, which would make it illegal to sell guns to individuals on the terror watchlist and a Republican-sponsored bill that expanded funding for background checks.[101]
In early 2017, Grassley sponsored legislation that expanded access to mentally disabled individuals, claiming that the previous ban against mentally ill individuals purchasing guns "mistreats disabled Americans."[102] In response to the 2017 Las Vegas shooting, Grassley stated that it was unlikely that gun laws would change in the wake of the shooting due to Congress being Republican-dominated.[103] A day after the Douglas High School shooting in Parkland, Florida, Grassley said the government had not done enough to prevent individuals with a mental illness from obtaining firearms.[104]
Health care
Grassley opposes the Affordable Care Act and has voted to repeal it.[105] Before its passage, he had supported the individual mandate in health care reform.[106][107][108] Grassley engaged in lengthy negotiations with the Obama administration, as it sought health care reform with support from Republican members of Congress. These negotiations produced nothing that Grassley would support, leading Democrats to characterize Grassley's efforts as intended to delay or scupper health care reform rather than produce compromise legislation.[109][110][111] In Obama's memoir, he describes an exchange between him and Grassley in the Oval Office as he sought to reach a compromise with Grassley. Obama asked, "If Max [Baucus] took every one of your latest suggestions, could you support the bill?… Are there any changes—any at all—that would get us your vote?", to which Grassley responded, "I guess not, Mr. President."[112]
In July 2017, Grassley stated that Senate Republicans should be ashamed of not having repealed the ACA, and said this could result in a loss of their majority in the 2018 elections.[113]
In August 2018, Grassley was one of ten Republican senators to cosponsor legislation intended to protect ACA provisions for people with preexisting conditions.[114] Health experts said the bill did not prevent insurers from excluding coverage for people with preexisting conditions.[114]
Marijuana
In 2015, Grassley voiced his opposition to a bipartisan senate bill, the Compassionate Access, Research Expansion, and Respect States Act, that would move cannabis from Schedule I to Schedule II. This bill would allow states with medical cannabis laws to legally prescribe it and allow for more research into its medical efficacy.[115] In 2019, along with Democratic U.S. Senators Dianne Feinstein and Brian Schatz, Grassley introduced the Cannabidiol and Marijuana Research Expansion Act, which would expand research into medical marijuana.[116]
Israel Anti-Boycott Act
In April 2017, Grassley co-sponsored the Israel Anti-Boycott Act (s. 720), which would make it a federal crime for Americans to encourage or participate in boycotts against Israel and Israeli settlements in the West Bank if protesting actions by the Israeli government.[117][118] In 2019, Grassley was one of 14 Republican senators to sign a letter from Marco Rubio that involved condemning the BDS movement.[119]
Retirement planning
In 2019, Grassley was one of the lead Senate co-sponsors of the SECURE Act of 2019. This bill, which became law as part of the fiscal year 2020 federal appropriations law signed in late December 2019, was intended to incentivize retirement planning, diversify the options available to savers, and increase access to tax-advantaged savings programs including 529 plans.[120]
Russian interference in 2016 elections
In February 2017, Grassley said that while Russian interference in U.S. elections was "bothersome", the United States did not have clean hands and had, for instance, interfered with the 1948 Italian election.[121] In May 2017 after Trump fired FBI director James Comey, Grassley advised people suspicious of the Trump administration to "Suck it up and move on."[122]
On October 31, 2017, while a group of Republicans were facing questions from reporters concerning recent indictments, Grassley ignored the questions and left the room.[123]
In January 2018, and in the first known congressional criminal referral in the investigation into Russian interference in the 2016 election, Grassley, along with Lindsey Graham, recommended charges against Christopher Steele, one of the people who sought to expose Russian interference.[124] Grassley and Graham said that they had reason to believe that Steele had lied to federal authorities.[124] According to The New York Times, "It was not clear why, if a crime is apparent in the F.B.I. reports that were reviewed by the Judiciary Committee, the Justice Department had not moved to charge Mr. Steele already. The circumstances under which Mr. Steele is alleged to have lied were unclear, as much of the referral was classified."[124]
In January 2018, when Grassley and Judiciary Committee Republicans were refusing to release the full transcript of an August 2017 ten-hour interview that the Judiciary Committee had conducted with Glenn Simpson, Senator Dianne Feinstein, the top Democrat on the Senate Judiciary Committee, released the full transcript unilaterally.[125] Simpson is the co-founder of the political opposition research firm Fusion GPS, which produced the so-called Steele Dossier on alleged connections between Trump and Russia. Grassley condemned Feinstein, saying that her decision was "confounding" and that it deterred future witnesses in the Russia 2016 investigation.[125] Simpson himself had requested that the full transcript of his interview be released, saying that Republicans had selectively leaked portions of the testimony to conservative media outlets in order to portray Simpson in a negative light and discredit the Steele dossier.[125][126]
Trade
In January 2018, Grassley was one of 36 Republican senators to sign a letter to President Trump requesting he preserve the North American Free Trade Agreement by modernizing it for the economy of the 21st century.[127]
Whistleblowers
The author of the Whistleblower Protection Act of 1989, Grassley has campaigned to increase protection and provide support for "whistleblowers". He has supported a number of FBI whistleblowers, including Coleen Rowley, Sibel Edmonds, and Jane Turner, although not supporting Department of Defense whistleblower Noel Koch.[128]
Grassley received a lifetime achievement award on May 17, 2007 from the National Whistleblower Center.
In April 2014, Grassley announced plans to create a caucus in the Senate dedicated to strengthening whistleblower protections.[129][130]
Grassley defended the whistleblower in the Trump–Ukraine scandal, breaking with his party line, when he declared on October 1, 2019 that the whistleblower "appears to have followed the whistleblower protection laws and ought to be heard out and protected."[131][132]
After whistleblowers Colonel Alexander Vindman and Ambassador Gordon Sondland testified against Donald Trump and were subsequently fired, Grassley defended Trump's firing of both whistleblowers on the grounds that their firing was not retaliatory.[133]
National security
On May 28, 2021, Grassley voted against creating an independent commission to investigate the 2021 United States Capitol attack.[134]
Investigations
Religious organizations
On November 5, 2007, Grassley announced an investigation into the tax-exempt status of six ministries under the leadership of Benny Hinn, Paula White, Eddie L. Long, Joyce Meyer, Creflo Dollar, and Kenneth Copeland by the United States Senate Committee on Finance.[135] In letters to each ministry, Grassley asked for the ministries to divulge specific financial information to the committee to determine whether or not funds collected by each organization were inappropriately utilized by ministry heads.[136] By the December 6, 2007 deadline, only three of the ministries had shown compliance with the Finance Committee's request. On March 11, 2008, Grassley and Finance chairman Max Baucus sent follow-up letters to Kenneth Copeland, Creflo Dollar and Eddie Long, explaining that the Senate reserved the right to investigate the finances of their organizations under federal tax laws.[137]
Medical research
Grassley also began an investigation about unreported payments to physicians by pharmaceutical companies. Grassley led a 2008 Congressional Investigation which found that well-known university psychiatrists, who had promoted psychoactive drugs, had violated federal and university regulations by secretly receiving large sums of money from the pharmaceutical companies which made the drugs.[138] The New York Times reported that Joseph Biederman of Harvard University had failed to report over a million dollars of income that he had received from pharmaceutical companies.[139] Weeks later, Business Week reported that Grassley alleged that Alan Schatzberg, chair of psychiatry at Stanford University, had underreported his investments in Corcept Therapeutics, a company he founded.[140] Schatzberg had reported only $100,000 investments in Corcept, but Grassley stated that his investments actually totalled over $6 million. Schatzberg later stepped down from his grant which is funded by the National Institutes of Health (NIH).[141]
Similarly, Charles Nemeroff resigned as chair of the psychiatry department at Emory University after failing to report a third of the $2.8 million in consulting fees he received from GlaxoSmithKline. At the time he received these fees, Nemeroff had been principal investigator of a $3.9 million NIH grant evaluating five medications for depression manufactured by GlaxoSmithKline.[142]
In 2008, for the first time, Grassley asked the American Psychiatric Association to disclose how much of its annual budget came from drug industry funds. The APA said that industry contributed 28% of its budget ($14 million at that time), mainly through paid advertising in APA journals and funds for continuing medical education.[143]
Political campaigns
Grassley was elected to his Senate seat in 1980, defeating the Democratic incumbent, John Culver. He was reelected in 1986, 1992, 1998, 2004, 2010 and 2016; he is the longest-serving senator in Iowa history. In 1992, he won a third term with 69 percent of the vote even as Bill Clinton carried the state in the presidential election.
2010
Grassley sought a sixth term in the 2010 election. He was challenged by Democrat Roxanne Conlin, a former United States attorney, and Libertarian John Heiderscheit, an attorney.
Grassley was unopposed in the Republican primary, although some conservatives said he had drifted "too far to the left".[144]
Grassley was reelected with 64.5% of the vote, Roxanne Conlin getting 33.2% of the vote. He carried every county in the state except Johnson County,[145] which hosts the University of Iowa. He is only the second Iowan to serve six terms in the Senate; the other being Iowa's longest-serving senator, William B. Allison.
2016
Grassley sought a seventh term in the 2016 election. Distinct from 2010, he was expected to face a strong challenge from former Democratic lieutenant governor Patty Judge,[146] but he won his seventh term with over 60% of the vote as the Republican presidential candidate Donald Trump won the state with over 51% of the vote.[147]
2022
Grassley has said he will not decide whether to run for reelection until between 8 and 12 months before the election,[148] Given the swing nature of the state and Grassley's strong results in past elections, many believe that an open seat in Iowa would be better for the Democrats as they could convince many Grassley supporters to vote for their nominee. In July 2021, former U.S. Representative Abby Finkenauer announced that she would be running for the seat regardless of Grassley's plans and criticized him for being close to Republican Senate leader Mitch McConnell. Finkenauer attacked both for being "obsessed with power" and for not taking a strong stance against those who breached the capitol in the 2021 United States Capitol attack.[149][150]
Fundraising
According to the nonpartisan Center for Responsive Politics in 2010, the industries that have been the largest contributors to Grassley during his political career are health professionals ($1 million in contributions), insurance industry ($997,674), lawyers/law firms ($625,543) and pharmaceuticals/health products ($538,680). His largest corporate donors have been Blue Cross Blue Shield (insurance), Amgen (biotech company) and Wells Fargo (bank).[151]
Electoral history
1992 United States Senate election in Iowa[156]

Party
Candidate
Votes
%

±%

Republican
Chuck Grassley (inc.)
899,761
69.61%
+3.58%
Democratic
Jean Hall Lloyd-Jones
351,561
27.20%
-6.37%
Natural Law
Stuart Zimmerman
16,403
1.27%
N/A
Independent
Sue Atkinson
6,277
0.49%
N/A
Independent
Mel Boring
5,508
0.43%
N/A
Independent
Rosanne Freeburg
4,999
0.39%
N/A
Grassroots
Carl Eric Olsen
3,404
0.26%
N/A
Independent
Richard O'Dell Hughes
2,918
0.23%
N/A
Socialist Workers
Cleve Andrew Pulley
1,370
0.11%
N/A
Write-ins
293
0.02%
+0.01%
Majority
548,200
42.41%
+9.95%
Turnout
1,292,494
Republican hold
Swing
United States Senate Republican Primary election in Iowa, 1980
Party
Candidate
Votes
%
+%
Republican
Chuck Grassley
170,120
65.54%
Republican
Tom Stoner
89,409
34.45%
1978 Iowa 3rd District United States Congressional Election
Chuck Grassley (R) (inc.) 74.8%
John Knudson (D) 25.2%
1976 Iowa 3rd District United States Congressional Election
1974 Iowa 3rd District United States Congressional Election
Chuck Grassley (R) 50.8%
Stephen Rapp (D) 49.2%
1974 Iowa 3rd District United States Congressional Republican Primary Election
Chuck Grassley (R) 42%
Robert Case (R) 28.2%
Charlene Conklin (R) 18.8%
Bart Schwieger (R) 6.6%
John Williams (R) 4.4%
1972 Iowa House of Representatives 37th District Election
Chuck Grassley (R) (inc.) 86.3%
Tim Youngblood (D) 13.7%
1970 Iowa House of Representatives 10th District Election
Chuck Grassley (R) (inc.) 62.7%
Rollin Howell (D) 36.2%
Colene Eliason (AI) 1.1%
1966 Iowa House of Representatives Butler District Election
Chuck Grassley (R) (inc.) 69.2%
Floyd Ramker (D) 30.8%
1964 Iowa House of Representatives Butler District Election
Chuck Grassley (R) (inc.) 60.9%
Beverly Moffitt (D) 39.1%
1962 Iowa House of Representatives Butler District Election
Chuck Grassley (R) (inc.) 64.3%
Vernon Garner (D) 35.7%
1960 Iowa House of Representatives Butler District Election
Chuck Grassley (R) (inc.) 69.1%
Vernon Garner (D) 30.9%
1958 Iowa House of Representatives Butler District Election
Chuck Grassley (R) 64.1%
Travis Moffitt (D) 35.9%
Personal life
Chuck Grassley and Barbara Ann Speicher married on August 22, 1954. They have five children: Lee, Wendy, Robin, Michele, and Jay.[159] Grassley is a member of the Family, the organization that organizes the National Prayer Breakfast.[160] His grandson Pat Grassley is a member of the Iowa House of Representatives.[161] Grassley is also known for his widely reported and long-running "feud" with the History Channel; he has consistently accused the network of featuring little actual history programming.[162]
On November 17, 2020, Grassley announced that he had tested positive for COVID-19.[163]
Awards
In 2003, Grassley's alma mater, the University of Northern Iowa, selected him for honoris causa membership in Omicron Delta Kappa, the National Leadership Honor Society. In 2009, the National Center for Health Research[164] gave Grassley the Health Policy Hero award for his 2004 oversight of legislative reforms and accountability of the United States Food and Drug Administration (FDA).[165] In 2010, The Hill named Grassley and Max Baucus the hardest-working members of Congress.[166]
Twitter account
Grassley operates his own account, @ChuckGrassley, on Twitter. The account has gained notoriety for cryptic posts that have gone viral,[167] including tweets about "u kno what" (ice cream) at a Dairy Queen in Windsor Heights, Iowa,[168] hitting a deer while driving,[169] and finding a dead "pidgin" in his front yard.[170]
Notes
References
Further reading
External links
Recent Elections
2016 US Senator
| | | |
| --- | --- | --- |
| Chuck Grassley (R) | 926,007 | 60.1% |
| Patty Judge (D) | 549,460 | 35.7% |
| Charles Aldrich (L) | 41,794 | 2.7% |
| Jim Hennager () | 17,649 | 1.1% |
| Michael Luick-Thrams () | 4,441 | 0.3% |
| Write-in () | 1,685 | 0.1% |
| TOTAL | 1,541,036 | |
Source: Ballotpedia
Finances
GRASSLEY, CHARLES (CHUCK) has run in 2 races for public office, winning 2 of them. The candidate has raised a total of $17,429,392.
Source: Follow the Money
Committees
Committees
Committee on Finance
Committee on the Judiciary
Committee on Agriculture, Nutrition and Forestry
Committee on the Budget
Joint Committee on Taxation
Voting Record
See: Vote Smart
New Legislation
Source: Congress.gov
Issues
Committees
Committee on Agriculture, Nutrition, and Forestry
Committee on Finance
Committee on the Budget
Committee on the Judiciary (Ranking)
Joint Committee on Taxation (Vice Chairman)
United States Senate Caucus on International Narcotics Control (Vice Chairman)
Legislation
Issues
Governance
Courts/Justice
The Framers of America's republic created a system of checks and balances to keep the three branches of the federal government accountable to the people. The legislative branch writes the laws. The executive branch executes the laws. And the judicial branch interprets the laws. As a member of Congress, Senator Grassley also takes his Constitutional oversight responsibilities to heart. A former jurist serving on the highest court in the land, Supreme Court Justice Louis D. Brandeis wrote: "Sunshine is the best disinfectant." Senator Grassley whole-heartedly agrees. As chairman of the Senate Judiciary Committee, which has oversight jurisdiction of the federal courts, he has long worked to make the judicial branch more open and transparent to the American people. From a bipartisan bill that would allow cameras in the courtroom to another that would create a first-ever Inspector General within the federal judiciary, Senator Grassley is working to strengthen two bedrock principles of American democracy – an engaged citizenry and open government.
Crime/Antitrust
Senator Grassley's chairmanship of the Senate Judiciary Committee gives him the opportunity to conduct oversight of the U.S. Justice Department. In recent years, he has called upon its Anti-Trust Division to weigh carefully consolidation in agribusiness. Specifically, he is concerned about reduced market opportunities, possible anti-competitive and predatory business practices, vertical integration and fewer competitors.
Senator Grassley is also a strong supporter of the Violence Against Women Act that established a national commitment to women and children victimized by domestic violence and sexual assault, and the Victims of Crime Fund which was created to provide federal support for victims of domestic violence, sexual assault, and other violent crime.
Government Oversight
For more than 36 years in the U.S. Senate, Senator Grassley has taken on a sometimes overlooked and many times unglamorous part of a lawmaker's job: congressional oversight. The three branches of the federal government operate on a system of checks and balances. From Senator Grassley's position in the legislative branch, he keeps close tabs on the other two branches to make sure the federal government works for, by and of the people.
As a taxpayer watchdog, Senator Grassley scrupulously searches for unscrupulous use of tax dollars. Every tax dollar lost to waste, fraud or abuse cheats the taxpaying public and prevents the federal government from serving the public good.
An anti-fraud tool that Senator Grassley secured into law 20 years ago is described by the U .S. Justice Department as the federal government's best weapon against fraud. He salutes whistleblowers who come forward to expose wrongdoing and will continue to serve as an advocate for whistleblowers and advance legal protections for those who come forward with the truth.
Senator Grassley's oversight crusade goes well beyond protecting the public purse. He rides herd on federal agencies to make sure they are serving the public. It doesn't matter if it's a Republican-led administration or an executive branch taking marching orders from a Democrat in the Oval Office. Mismanagement is a non-partisan problem. Senator Grassley works to build accountability by letting more sunshine in on how the government conducts the people's business.
Senator Grassley's spotlight also targets Congress. For starters, the Grassley-sponsored landmark Congressional Accountability Act enacted 10 years ago puts Capitol Hill under the same workplace safety and civil rights laws that impact Main Street businesses. Today he is pushing to provide whistleblower protections to employees of the legislative branch based on the proposition that opening up the people's business to the light of day will strengthen representative government. Senator Grassley is committed to putting an end to "secret holds" in the U.S. Senate and allowing cameras into federal courts.
Senator Grassley introduced a comprehensive bill in January, which would get at the heart of fraud against Medicare by allowing the government more time to delay payment to Medicare providers when waste, fraud or abuse is suspected. Right now, a prompt-payment rule leads to pay-and-chase, rather than fraud prevention. Also this year, Grassley won passage of updates to False Claims Act provisions he got enacted in 1986 to fight fraud by government contractors. These whistleblower provisions have returned $22 billion to taxpayers that would otherwise be lost to fraud. The provisions have proven to be the government's best weapon against health care fraud. Over time, the courts have weakened those provisions. Grassley makes sure they stay strong. Every Medicare dollar lost to fraud is a dollar that doesn't serve beneficiaries as intended.
Economy
Agriculture/Rural Development
Iowa has a global reputation as an agricultural powerhouse. As the leading producer of pork, corn, soybeans and eggs, production agriculture anchors the state's economy, helps ensure America's food security and feeds millions of people from around the world. From the farm to the fork, Iowa's agricultural abundance creates jobs all along the food chain. As a farmer-lawmaker, Senator Grassley brings real world experience to the policymaking fields in Washington, D.C. His leadership positions on the Senate Finance, Judiciary, Agriculture and Budget Committees provide a unique opportunity to shape tax, international trade, regulatory and spending policy that will shape the future of farming in the 21st century.
As work moves forward to renew the Farm Bill, Senator Grassley is continuing his crusade to improve imbalances in the federal farm payment system that reward mega-producers and leave less for small and mid-sized family farms; clamp down on concentration and anti-competitive practices that penalize independent producers; help beginning farmers get a good start in their capital- and labor-intensive profession; enact a mandatory country-of-origin labeling law; and, educate federal regulators when they try to nail a square peg in a round hole.
Senator Grassley has earned a reputation in Washington as a voice for American agriculture. And for as long as he is serving Iowans in the U.S. Senate, he'll always work to do right by the family farmer.
Education
Education
When college graduates enter the workforce today, many get an eye-opening dose of reality when their new paychecks have to stretch to cover housing, car, health insurance and student loan payments. A bachelor's degree graduate today shoulders about $19,000 in student debt. The loan burden climbs significantly for a graduate education.
Senator Grassley has long championed tax incentives to make higher education accessible and affordable for all students who want to pursue an advanced degree. As a father of five, Grassley understands why so many parents worry about the rising costs of higher education. Double-digit tuition increases can make saving for a child's higher education and one's own retirement seem overwhelming. Navigating the loan application process itself can be just as intimidating.
That's why Senator Grassley wants to make sure the college savings vehicles and tax breaks for colleges and universities written into the federal tax code are cost-effective, efficient and working as intended.
Last December, Grassley chaired a congressional oversight hearing to review the tax tools leveraged to make college more affordable for working families. It concerns him that some institutions, especially tax-exempt elite colleges, are jacking up tuition rates even while they have massive endowments.
Grassley has also been the leading advocate for talented and gifted children in the United States Congress and has worked to ensure that they have access to the education needed to reach their full potential. He advanced legislation that would expand the availability of gifted education services and he was successful in expanding the benefits available for gifted students through the No Child Left Behind Act.
Environment
Energy/Environment
Conscientious stewardship of the land, water and air is second nature for those who live, work and raise a family on the farm. As a federal policymaker, Senator Grassley's farm-bred green thumb has long guided his work on Capitol Hill to promote renewable energy and a clean environment. That includes sowing and tending the seeds at the policymaking tables to tap Iowa's agricultural abundance as an alternative source of energy. Diversifying farm commodities and agricultural by-products — such as corn, soybeans, switchgrass and livestock waste — and capturing natural resources — such as wind — to produce homegrown, renewable energy is a winning solution to address America' energy security. Iowa and America's economic and consumer dependence on oil imported from volatile regions of the world influences America's national, energy and economic security. Policymakers can empower America in the 21st century and help preserve the environment by fostering research and production of green power.
Health Care
Health Care
Medical breakthroughs, quality health care services, healthier lifestyles and miracle drugs are helping advance longevity rates and expectations among Americans. Health care ranks among the public's most important policy issues. First and foremost, it's a matter of life and death. It's also an economic anchor and major employer in many communities. The U.S. health care system rings up $2.2 trillion in annual spending.
From Senator Grassley's senior position on the Senate Finance Committee, he works to find policy solutions that will make health care coverage more affordable and health care services accessible and accountable. In recent years, Congress responded to grassroots messages calling for portability of health insurance, curbing practices that denied coverage for pre-existing health conditions and creating a Medicare prescription drug benefit.
In 2003, Senator Grassley steered through Congress the first-ever, comprehensive, voluntary Medicare prescription drug benefit. The public health insurance program for seniors and disabled individuals now has 39 million beneficiaries who are enrolled in Part D.
Senator Grassley also says consumers shouldn't have to second-guess what's in their medicine cabinets, and he's been riding hard on the Food and Drug Administration to improve its surveillance system to ensure the safety of drugs once they've reached the marketplace.  He also wants better labeling standards that give consumers the information they need to know, such as risks associated with anti-depressant medications prescribed to youth and Tylenol, as examples.
Representing Iowa in the U.S. Senate allows Senator Grassley to wear his advocacy for Rural America on his sleeve. He has long championed federal policy (such as fixing flawed federal reimbursement formulas) that will help keep hometown hospitals and community health care centers open for business and able to recruit and retain high quality health professionals. He works to help improve quality of care standards and ensure patients and taxpayers get the most bang for their buck; ensure rural pharmacies get fair treatment under Medicare Part D; root out improper payments in the Medicare and Medicaid programs; strengthen federal standards regulating physician-owned hospitals; and strengthen enforcement and oversight of federal nursing home standards.
After a seven-year campaign by Senator Grassley, the bipartisan Family Opportunity Act made it to the President's desk. Signed in 2006, the law encourages parents to work and get ahead without sacrificing health coverage for their children with special needs. It allows parents to buy Medicaid coverage without impoverishing their families.
Senator Grassley continues to work to identify achievable solutions that will expand coverage to the 47 million uninsured. Health care services provided to the uninsured results in costs shifted to paying customers and private insurers.
Senator Grassley last year continued his longstanding efforts for rural health care by authoring a major reform to the Medicare formula used to reimburse physicians and other health care professionals in rural areas, and it became law this year. Grassley's formula fix was added to the health care legislation during Finance Committee consideration of the proposal and improved the Senate bill's provisions for rural health care. Grassley said these formulas are fundamentally important to how well Medicare works for beneficiaries in rural states. This year, Grassley has continued to work to ensure physician access for beneficiaries, most recently with legislation he cosponsored that was enacted in July to reverse the 21-percent payment cut that was jeopardizing access to physician services for Medicare beneficiaries.
From a senior position in the U.S. Senate, Senator Grassley presses on for health policy that helps individuals afford coverage; promotes wellness, preventive care and disease management; takes into account the financial impact on employers, small businesses and taxpayers; and, steers Americans to become conscientious consumers of the health care system.
Immigration
Immigration
Senator Grassley works hard to reform our immigration policies and put integrity back into our immigration system.
Grassley first and foremost is opposed to amnesty. He believes if Congress insists on a legalization program, it's important these individuals truly do "earn" any potential adjustment to legal status. This includes assimilation efforts such as learning English or paying back taxes.
He supports increased border and interior enforcement measures. This includes increasing agents in states like Iowa, and providing funding for fencing, technology, and border patrol agents.
It's also important to improve the current electronic employment verification system that allows employers to verify the immigration status of their workforce. This system has been reliable for employers, and companies should be required to use this valuable tool.
New and improved legal avenues for workers are important so industries and areas where help is needed can get workers to come to the United States. To make this happen, it's necessary to make sure that visa policies are improved for foreign travelers. The bottom line is that the visa procedures need to be secure but efficient.
Oversight is one of the constitutional responsibilities as a Senator and he takes that very seriously. Oversight of the Department of Homeland Security will be especially important in the future as it implements any temporary worker program.
Over the last several years Grassley has worked hard to root out fraud and mismanagement of visa programs that don't work or harm the American worker. This includes tackling loopholes that make the programs susceptible to abuse.
Safety
Drugs
For the past decade, I've used my leadership positions on the Senate Judiciary and Finance Committees to advance public policy that curbs trafficking, production and consumption of illegal drugs, beefs up enforcement and promotes effective treatment and prevention methods.
A 2006 survey by the National Association of Counties ranks methamphetamine as the number one drug problem by 79 percent of Iowa counties.
As co-chairman of the international narcotics control caucus, I work to raise public awareness about the hazards associated with illegal drugs, particularly methamphetamine. Beyond the devastating impact brought to bear upon families, employers and communities, illegal drugs create crime rings that launder money (estimates suggest $60 billion per year in tax evasion) and place significant burden on local law enforcement, criminal justice and public health systems.
In the late 1990s, I launched an extensive first-of-its kind statewide initiative to address Iowa's drug problem at the grassroots. Called "Face It Together," or FIT, the effort was designed to help Iowans work together to keep their schools, workplaces and communities drug-free. As Iowa's senior U .S. Senator, I strongly support community anti-drug coalitions and Drug Free Communities grant participants.
Social Security
Retirement Security
Americans are living longer than ever before. Many may spend decades out of the workplace in retirement. That puts even greater urgency on building an adequate nest egg to last and accommodate a lifestyle people grow accustomed to while still in the workforce.
From a senior position on the tax-writing Senate Finance Committee, which has jurisdiction over Social Security, Medicare and Medicaid, Grassley has worked for the last 25 years in the U.S. Senate on issues affecting retirement security. During his chairmanship of the Senate Special Committee on Aging, he also led efforts to improve enforcement of nursing home standards for the nation's most vulnerable elderly, provide resources to family caregivers, and root out waste, fraud and abuse in Medicare spending.
Senator Grassley says it will take bipartisan leadership to address the looming deficits in Social Security. He has called Social Security the most successful social program ever and is committed to making it financially sound for future generations. He also authored a landmark bill in 2006 to protect employee pension plans from Enron-type corporate malfeasance and shore up the nation's pension system for workers. The law also dramatically expanded retirement savings tax initiatives, including IRA contribution limits, and enhanced vesting and portability.
Senator Grassley tells Iowans the hardest dollar to save is the first. It's never too early to start saving for retirement.
Veterans
Veterans
For the last three decades, the U.S. military has relied upon an all-volunteer enlistment. Fewer families today have a direct, personal connection to a branch of the Armed Forces. Americans immersed in their daily lives may not take the time to consider the sacrifices made by the honorable men and women in uniform. The risk and uncertainty also impacts the loved ones left behind when a soldier is called up to active duty.
Senator Grassley unequivocally supports U.S. troops who put their lives on the line in service to our country. His advocacy doesn't end when their military service ends. Nearly two decades ago, his efforts to help Vietnam veterans and their families track down information about POWs and MIAs succeeded in gaining access to more than one million pages of military documents.
Veterans can rest assured Senator Grassley won't let the Defense Department or Department of Veterans Affairs duck accountability or responsibility when it comes to information or health care to which they are entitled. It was deeply troubling to discover the deplorable conditions and bureaucratic mess facing physically maimed and psychologically wounded soldiers being treated at the Walter Reed Army Medical Center. U.S. soldiers and veterans deserve the best possible care. Management problems must be identified and solved to ensure all VA medical facilities are held to the highest standards to serve those who risked the ultimate sacrifice in service to their country.
Adoption, Foster Care and Welfare
Senator Chuck Grassley encourages his staff to bring him ideas and inspiration. Years ago, a legislative assistant told him about her positive experience with adoption and her interest in developing child welfare policy initiatives with him. He participated in a foster care "maze" in the U.S. Capitol with the late Dave Thomas, owner of Wendy's restaurants and champion for adoption.
Senator Grassley quickly understood the tremendous struggles that foster youth endure and the need to shape helpful public policy.
He worked to advance the Adoption and Safe Families Act of 1997. Since its enactment, adoptions increased to 54,000 per year, and many states have doubled their adoptions from foster care.
The Deficit Reduction Act of 2005 included funding he championed for grants to train judges, attorneys and legal personnel in child welfare cases, as well as grants to strengthen and improve collaboration between the courts and child welfare agencies.
In 2006, the Senate Finance Committee held the first hearings on child welfare in more than a decade. The hearings led to passage of the Child and Family Services Improvement Act of 2006, which Senator Grassley developed as Finance Committee Chairman and shepherded through Congress. The legislation improved programs aimed at helping troubled families, provided grants for states and community organizations to combat methamphetamine addiction and other substance abuse, and increased case worker visits for children in foster care.
Senator Grassley was a leader in the bipartisan effort to pass the Fostering Connections to Success and Increasing Adoption Act of 2008. This new law represented the most significant and far-reaching improvements to child welfare in more than a decade. It provided additional federal incentives for states to move children from foster care to adoptive homes. It included Senator Grassley's legislation to make it easier for foster children to be permanently cared for by their own relatives, including grandparents and aunts and uncles, and to stay in their own home communities. The law broke new ground by establishing opportunities to help kids who age out of the foster care system at age 18 by giving states the option to extend their care and helping them pursue education or vocational training.
In 2011, Senator Grassley worked to reauthorize grants that support families who struggle with substance abuse and that improve the safety, permanency and well-being of children who are not in their homes or are likely to be removed from their homes because of substance abuse by their parents. Senator Grassley has long said that foster youth yearn for permanency, and these grants help to keep families together, when possible, so that children are not subjected to the many difficulties that they face in the foster care system.
In May 2014, Senator Grassley and Senator Mary Landrieu introduced a resolution recognizing May as National Foster Care Month.  National Foster Care Month is recognized as "an opportunity to raise awareness about the challenges of children in the foster care system, and encouraging Congress to implement policy to improve the lives of children in the foster care system."  The full text of the resolution can be found here.
Senator Grassley has focused on many issues that affect foster youth, including educational stability, substance abuse, and the over-prescription of psychotropic drugs. He also has worked on several adoption-related policies, including the adoption tax credit, kinship, and adoption awareness resolutions.
Constituent Services
Senator Grassley worked to earn the trust of his constituents and continues to use his seniority in Congress to help make Iowa an even better place to live, raise a family, receive a world class education, work and retire. As a public servant elected by the people of Iowa, Senator Grassley is committed to make the federal government operate of, for and by the people.
Senator Grassley's commitment to serving Iowans is also why he operates six offices across the state. He has experienced constituent services specialists in Cedar Rapids, Council Bluffs, Davenport, Des Moines, Sioux City and Waterloo who help Iowans unravel problems they may have obtaining Social Security or veterans' benefits, expediting paperwork for passports, finding answers with immigration services or searching for military records.
In addition to blocking out two hours a day of his office schedule to meet with Iowans who've scheduled an appointment to see him while in the nation's capital, Senator Grassley visits each of Iowa's 99 counties at least once every year. He often says that representative government is a two-way street and he's committed to upholding his end of the bargain. He travels Iowa to hold town meetings, and he encourages Iowans, in turn, to voice their views in-person, by telephone, by email or in a postal letter.
International Diplomacy
Using a leadership position on the Senate Finance Committee as a platform to reach out to the world community of nations, Senator Grassley launched an opportunity two decades ago to welcome ambassadors and trade representatives to come visit Iowa for one week in August. Since 1986, he has hosted international delegations to Iowa every other year. Triggered by an effort to address the economic downturn in Iowa after the farm crisis in the 1980s, this foreign-exchange road trip across Iowa creates lasting goodwill and relationships with Iowans who open their businesses and family farms to tours and homes to overnight guests. It's grassroots diplomacy. Nothing can break down a cultural barrier more meaningfully than a friendly smile and warm handshake.
Senator Grassley's position in Congress also gives him opportunities to forge alliances overseas, such as with the NATO Parliamentary Assembly. In May 2006, Senator Grassley met with European lawmakers to discuss international security issues, including terrorism, nuclear arsenals and global health threats.
Senator Grassley often says keeping in touch with constituents makes the process of representative government work. Likewise, keeping in touch with international allies and partners makes the world a safer and better place.
International Trade
Using a leadership position on the Senate Finance Committee as a platform to reach out to the world community of nations, Senator Grassley launched an opportunity two decades ago to welcome ambassadors and trade representatives to come visit Iowa for one week in August. Since 1986, he has hosted international delegations to Iowa every other year. Triggered by an effort to address the economic downturn in Iowa after the farm crisis in the 1980s, this foreign-exchange road trip across Iowa creates lasting goodwill and relationships with Iowans who open their businesses and family farms to tours and homes to overnight guests. It's grassroots diplomacy. Nothing can break down a cultural barrier more meaningfully than a friendly smile and warm handshake.
Senator Grassley's position in Congress also gives him opportunities to forge alliances overseas, such as with the NATO Parliamentary Assembly. In May 2006, Senator Grassley met with European lawmakers to discuss international security issues, including terrorism, nuclear arsenals and global health threats.
Senator Grassley often says keeping in touch with constituents makes the process of representative government work. Likewise, keeping in touch with international allies and partners makes the world a safer and better place.