Summary
Current Position: Governor since 2017
Affiliation: Republican
Former Position(s): Lt. Governor from 2011 – 2017; State Senator from 2009 – 2010
Featured Quote: 
Chuck Grassley is a family farmer, taxpayer watchdog & trusted leader in the US Senate. The choice is clear: while Abby Finkenauer supports failed liberal policies like higher taxes, reckless spending & more gov't, @GrassleyWorks
for Iowa.
Featured Video: 
Iowa Gov. Kim Reynolds' full speech at the Republican National Convention | 2020 RNC Night 2
Source: Government page
News
Gov. Kim Reynolds said she's in talks with lawmakers to combat vaccine mandates at private businesses, but she does not plan to issue an executive order on the issue.
"(Iowans) have said enough is enough," Reynolds said during a WHO Radio interview Wednesday. "They are tired of the overreach, they are tired of the mandates."
Texas Gov. Greg Abbott on Monday issued an executive order to prohibit private businesses in Texas from requiring COVID-19 vaccines. The move comes in opposition to a federal requirement that private businesses with more than 100 employees mandate vaccines or regular, mandatory testing for employees.
An NBC station in Austin reported that businesses were torn between following the federal rule, which will be enforced through the Occupational Safety and Health Administration, or the governor's orders.
Reynolds said Wednesday she could not issue a similar executive order in Iowa due to the separation of powers between the executive and legislative branch.
"I can't fix one unconstitutional mandate with another unconstitutional mandate," she said.
i
DES MOINES – Gov. Kim Reynolds issued a disaster proclamation today for two counties in response to recent severe weather.
The governor's proclamation allows state resources to be utilized to respond to, and recover from, the effects of recent severe weather and activates the Iowa Individual Assistance Grant Program for qualifying residents, along with the Disaster Case Management Program, for Kossuth and Mitchell counties.
The Iowa Individual Assistance Grant Program provides grants of up to $5,000 for households with incomes up to 200 percent of the federal poverty level for a family of three. Grants are available for home or car repairs, replacement of clothing or food, and temporary housing expenses. Original receipts are required for those seeking reimbursement for actual expenses related to storm recovery. The grant application and instructions are available on the Iowa Department of Human Services website at https://dhs.iowa.gov/disaster-assistance-programs. Potential applicants have 45 days from the date of the proclamation to submit a claim.
The Disaster Case Management Program addresses serious needs related to disaster-related hardship, injury, or adverse conditions. Disaster case managers work with clients to create a disaster recovery plan and provide guidance, advice, and referral to obtain a service or resource. There are no income eligibility requirements for this program; it closes 180 days from the date of the governor's proclamation. For information on the Disaster Case Management Program, contact your local community action association or visit www.iowacommunityaction.org.
Twitter
About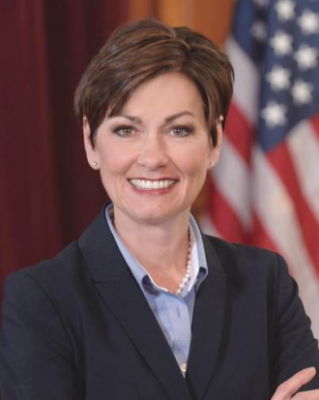 Source: Government page
As Iowa's 43rd Governor, Kim Reynolds is determined to make sure that Iowa's success is every Iowan's success.
Whether it's preparing Iowans for cutting-edge careers, fighting for education, improving healthcare and mental health access, or empowering our rural communities, Kim's priorities are making a difference in all four corners of the state.
Her vision keeps Iowans at the center of all decisions, especially in the area of fiscal responsibility. Kim knows that when Iowa taxpayers are able to keep more of their money, great things happen.
She also believes in redemption. Kim's justice reform initiatives carefully balance second chances with victim rights.
As Governor, Kim's strong voice for international trade, agriculture, and advanced manufacturing is opening new markets and maintaining relationships with leaders in China, Mexico, Canada, Israel, Thailand, Vietnam, the Philippines, Germany, Brazil and Argentina, to name just a few.
Although she's traveled the world telling Iowa's story, Kim is still a small-town girl at heart with common-sense values. These principles are reflected in the Governor's Empower Rural Iowa initiative and Future Ready Iowa.
At age 57, Kim earned a bachelor's degree from Iowa State University. Then, nearly two years later, on Nov. 4, 2018, she was elected by Iowans to become their first woman Governor.
Family means everything to Kim and her husband, Kevin. They have three daughters (Jennifer, Nicole and Jessica) who are happily married, and Kim and Kevin love spending time with their 10 very active grandchildren.
Office
Office of the Governor
State Capitol
1007 East Grand Ave.
Des Moines, IA 50319
Phone: (515) 281-5211
Experience
Work Experience
Senator
Iowa State Senate, District 48
2009 to 2011
Lieutenant Governor of Iowa
2011 to 2013
Education
Personal
Birth Year: 1959
Place of Birth: Saint Charles, IA
Gender: Female
Race(s): Caucasian
Religion: United Methodist
Spouse: Kevin Reynolds
Contact
Email:
Offices
Office of the Governor
State Capitol
1007 East Grand Ave.
Des Moines, IA 50319
Phone: (515) 281-5211
Web
Government Page, Twitter, YouTube, Facebook
Politics
Source: none
Campaign Finance
Open Secrets – We Follow the Money
Voting Record
VoteSmart – Key Votes & Ratings
Search
Wikipedia Entry
Kimberly Kay Reynolds (née Strawn, born August 4, 1959) is an American politician serving as the 43rd and current Governor of Iowa since 2017. She is a member of the Republican Party.
Reynolds previously served as the 46th Lieutenant Governor of Iowa from 2011 to 2017. Before she was elected Lieutenant Governor, Reynolds served as Clarke County Treasurer for four terms and then served in the Iowa Senate from 2009 to 2010. Reynolds became Governor of Iowa in May 2017 when her predecessor, Terry Branstad, stepped down to become United States Ambassador to China. She won a full term as governor in the 2018 gubernatorial election.
Early life and education
Reynolds was born Kimberly Kay Strawn in St. Charles, Iowa. She attended high school at the Interstate 35 Community School District and graduated in 1977.[1]
Reynolds attended Northwest Missouri State University, for one semester (Fall 1977) where she took classes in business, consumer sciences and clothing sales and design. She dropped out of college after one semester. She later took classes at Southeastern Community College in the late 1980s, and then took accounting classes at Southwestern Community College between 1992 and 1995. She left both of these institutions.[2] Reynolds began partially online[3] classes at Iowa State University in 2012, and received a Bachelor of Liberal Studies degree in December 2016.[4]
Reynolds was twice charged with driving under the influence of alcohol, first in 1999 and again in August 2000.[5][6] In 2000, she was initially charged with an aggravated misdemeanor, but pleaded guilty to a lesser offense.[6] In 2017, Reynolds stated that she sought inpatient treatment for alcoholism following her second arrest and that she had been sober for nearly 17 years.[6][7]
Iowa Senate
Reynolds served four terms as the Clarke County treasurer. On November 4, 2008, she was elected to represent the 48th district in the Iowa Senate, defeating Democratic candidate Ruth Smith and independent candidate Rodney Schmidt.[8] In 2010, Reynolds endorsed a ban on same-sex marriage in Iowa.[9]
Lieutenant Governor of Iowa
On June 25, 2010, Republican gubernatorial nominee Terry Branstad publicly proposed Reynolds to be his running mate as the lieutenant governor candidate. The next day, she received the Republican nomination from the 2010 Republican State Convention. On November 2, 2010, the Branstad/Reynolds ticket won the general election.[10][11] Reynolds resigned from her Senate seat on November 12, 2010, ahead of taking office as lieutenant governor.[12]
Reynolds was sworn in on January 14, 2011.[13] Reynolds co-chaired the Governor's Science, Technology, Engineering and Math (STEM) Advisory Council, Iowa Partnership for Economic Progress board, and the Military Children Education Coalition and was also Branstad's representative on the board of the Iowa State Fair.[14]
Reynolds was elected Chair of the National Lieutenant Governors Association (NLGA) in July 2015.[15]
Governor of Iowa
Tenure
On May 24, 2017, Reynolds assumed the governorship upon the resignation of Governor Terry Branstad, who stepped down to become the new United States Ambassador to China. Reynolds is the first female Governor of Iowa.[16]
Reynolds's elevation to the governorship created a vacancy in the office of Lieutenant Governor of Iowa; reports indicated that her selection of a lieutenant governor could be challenged in the Iowa Supreme Court.[17] An opinion from the Attorney General of Iowa indicated that "an individual promoted from lieutenant governor to governor, as was Reynolds, [did] not have the authority to appoint a new lieutenant governor."[18] On May 25, 2017, Reynolds announced that Iowa Public Defender Adam Gregg would serve as acting lieutenant governor; to avoid litigation, the Reynolds administration stated that Gregg "[would] not hold the official position of lieutenant governor" and would not succeed Reynolds in the event of her inability to serve as governor.[19]
In 2018, Reynolds proposed cutting $10 million from the Medicaid program which cares for eligible low-income adults, children, pregnant women, elderly adults and people with disabilities.[20] In 2020, Reynolds proposed a 1-cent increase in the state sales tax (bringing it to 8 cents), offset by a phrased reduction in the state income tax, including a cut in the tax rate for the top income bracket, from 9% to 5.5%.[21] Reynolds' proposed restructuring of the state tax code would represent a further reduction in income taxes, going beyond 2018 legislation (passed by Republicans in the state legislature and signed into law by Reynolds) that was the largest income tax cut in Iowa history.[21] Her proposed sales-tax increase, however, was largely opposed by state legislators.[22]
In 2018, following the U.S. Supreme Court's decision in Obergefell v. Hodges (2015), Reynolds described same-sex marriage as a "settled" issue and said that she did not consider herself obligated to follow the Iowa Republican Party platform provision against same-sex marriage.[23][24]
Reynolds is a staunch supporter of Donald Trump.[25][6] Reynolds blocked two-thirds of requests from Democratic state Attorney General Tom Miller to join multi-state lawsuits challenging Trump administration policies or to submit amicus briefs in such suits; among the vetoed requests were proposals to challenge Trump policies related to immigration, asylum, abortion, birth control, environmental deregulation, gun policy, and LGBT rights.[26] Reynolds blocked Miller from including Iowa in a legal challenge to the Trump administration's repeal of the Clean Power Plan, an Obama-era regulation that restricted emissions of greenhouses gases (such as carbon) to counteract climate change.[27] In 2018, Reynolds acknowledged that Trump's trade and tariff policies were hurting American farmers (who suffered from a decline in agriculture exports due to tariffs imposed by other nations in retaliation to Trump's tariffs), but then claimed that farmers would ultimately benefit.[28][29][30] Reynolds made campaign appearances with Trump during the 2020 presidential campaign; in the November election, Trump carried Iowa, but was defeated nationally by Joe Biden, who won both the electoral vote and the national popular vote.[25] After Trump's loss, Reynolds did not denounce the president's claims of election fraud and refused to acknowledge Biden's victory until January 2021, when the electoral votes were formally counted by Congress.[25] Reynolds condemned the storming of the Capitol, which disrupted the formal counting of the electoral votes, but said many people believed the election was "not valid."[25]
In May 2018, Reynolds signed a bill to revamp Iowa's energy efficiency policies.[31] Also in May 2018, Reynolds signed a fetal heartbeat bill, one of the U.S.'s most restrictive abortion bans.[32][33] In January 2019, the law was struck down by an Iowa state judge, who declared it unconstitutional.[34] Reynolds chose not to appeal, saying that she did not believe that "a losing legal battle" would advance the anti-abortion cause.[33] Reynolds has repeatedly called for an amendment to the state Constitution to state that it does not protect abortion rights; such an amendment would overturn a 2019 Iowa Supreme Court decision concluding that the right to an abortion is protected by the state constitution.[21] In 2021, Reynolds signed a bill into law that forced women getting abortion to wait for 24 hours; the law was struck down by an Iowa court.[35]
Reynolds began her first full term on January 18, 2019. In March 2019, Reynolds signed a bill into law requiring public universities to protect all speech on campus.[36][37] Through her judicial appointments, Reynolds shifted the Iowa Supreme Court to the right.[38] Reynolds's attorney, Sam Langholz, was appointed to a position in the Attorney General's office to defend her policies in court.[39]
In June 2020, a vehicle driven by a Iowa State Patrol trooper carrying Reynolds hit a Black Lives Matter protester in Ackley. The State Patrol and Reynolds contended that the protester intentionally stepped in front of the vehicle's path and that the driver acted appropriately, while the protester contended that he was intentionally struck.[40][41][42]
Reynolds launched an anti-vaping social media campaign in December 2019 in an effort to reduce vaping among Iowa youth.[43] In July 2020, Reynolds signed legislation that raised the minimum legal age to buy tobacco products, including vaping products, to 21.[44]
From 2017 to April 2020, Reynolds restored the voting rights of 543 felons, more than her roughly 200 restorations that her predecessor gave over almost seven years in office.[6] In August 2020, Reynolds signed an executive order permitting felons to vote in Iowa elections upon completing their sentence. Iowa previously imposed a lifetime ban on felons voting, unless the governor personally restored their voting rights, the strictest law in the country.[6][45][46] In explaining her belief in second chances, Reynolds referred to her experiences two decades earlier, in which she twice pleaded guilty to DUI and subsequently recovered from alcoholism, an experience that Reynolds cites as an important turning point in her life.[6]
Reynolds has a close relationship with the Iowa pork industry, and in particular with Iowa Select, one of the country's largest pork producers. Reynolds donated an afternoon of her time as part of a 2019 charity auction to benefit the foundation run by the company's owners, a couple that contributed almost $300,000 to Reynolds's campaigns.[47] The winning bid was placed by a Republican donor who is influential in the pork industry. The director of the Iowa Ethics and Campaign Disclosure Board said that he did not believe that the auction did not violate state law, but attorneys for two former Democratic governors of Iowa said that it created the appearance of impropriety and was an error in judgment.[47] In May and July 2020, Reynolds' administration arranged for COVID-19 testing to be done at the suburban West Des Moines headquarters of Iowa Select, and at the Waverly facility partly owned by another campaign donor, at a time when those most vulnerable to the disease (healthcare workers and residents of nursing homes and other congregate-living facilities) were unable to timely get tested.[48] A separate pork production company that had donated $25,000 to Reynolds' campaign received a disproportionate benefit from a state pandemic business-aid program, receiving 72% of the program's initial rounds of disbursements.[49] After the testing came to light in January 2021, Reynolds was criticized by Polk County Supervisor Matt McCoy, and State Auditor Rob Sand began an investigation into whether special treatment was accorded to political donors over essential workers and vulnerable persons.[48]
In March 2021, Reynolds signed a bill into law that shortened the opening hours of poll places on Election Day and reduced the early voting period, as well as required that absentee ballots be received by ballot places before the close on Election Day.[50] Reynolds said the legislation would protect election integrity.[50] It was part of a wider effort by Republicans across the country to roll back voting access. Democrats won the 2020 presidential election, with Donald Trump and many other Republicans making false claims of fraud.[50]
On April 2, 2021, Reynolds signed a bill allowing individuals to purchase and carry handguns without a permit, a policy referred to as constitutional carry.[51][52][53][54] Later that month, Reynolds signed legislation that would allow landlords to reject tenants who pay rent with Section 8 vouchers.[55]
During the COVID-19 pandemic, Reynolds did not follow public health guidance and scientific recommendations in dealing with the virus.[56] Reynolds signed a Proclamation of Disaster Emergency on March 9, 2020.[57] That same month she ordered the closure of some recreational businesses and school closure.[58][59] She ordered a halt to what she described as "non-essential" surgeries, which included surgical abortions.[60] During the pandemic, Reynolds did not implement a stay-at-home order.[58] She did not follow the advice of Iowa health officials,[61] and did not implement a requirement to wear face masks in public places until after the November 2020 election, when she made face masks at large gatherings mandatory.[62][58] In June, recreational businesses such as bars and restaurants were fully reopened, which was followed by surges in coronavirus case numbers.[58] Reynolds said that the science on the effectiveness of face masks in halting the coronavirus pandemic was not settled, although there was nearly unanimous scientific and medical support that the wearing of face masks in public prevented virus transmission, and the use of face masks is recommended by World Health Organization, Centers for Disease Control and Prevention (CDC), and Iowa Department of Health.[63] In July 2020, Reynolds contended that face mask mandates implemented by localities in Iowa were "not appropriate" and unlawful[56] and sought to block them, making Iowa one of the only U.S. states without any enforceable local or state mask mandates.[64] The mayor of Iowa City rejected Reynolds' claim and issued a municipal order requiring the use of face coverings in indoor public places; he cited the state Constitution's home-rule authority and a state statute that grants mayors power during a time of "emergency or public danger."[64]
In April 2020, following a tip from Ashton Kutcher, Reynolds, signed a contract with Utah startup Nomi Health to develop a COVID-19 testing program called TestIowa.[65][66][67]
In July 2020, Reynolds said she would invalidate plans implemented by some school districts to limit in-person classes to one day a week for most students, with online learning on other days, overriding local school districts and requiring students to spend at least half of their schooling in classrooms.[68] The plan was criticized by the Iowa State Education Association (the state teachers' union),[68][69] and prompted Iowa public school teachers to begin sending their obituaries to Reynolds in protest[70] Despite the outcry from teachers, who noted that social distancing was often impossible in school settings and that many teachers had not yet been vaccinated, in late January 2021 Reynolds signed a bill, passed by the state legislature along party lines, that required school districts to provide full-time in-person classes upon parents' request.[69]
In 2020, Reynolds had the lowest approval rating of any governor in the nation for handling of the COVID-19, with an approval rating of 28% in July 2020,[71] and 26% in September 2020.[72] COVID-19 in Iowa peaked in November 2020, but remained high into the next year, in late January 2021, the state had the nation's third-highest positivity rate,[69] and third-lowest per capita vaccination rate.[73]
In September 2020, the Reynolds administration broke with the CDC's quarantine guidelines, revoking guidelines recommending that people exposed to the virus quarantine for 14 days, "if the infected person and close contacts were wearing masks properly."[74] In October 2020, she appeared at an indoor fundraiser for the Republican Party, and a large rally in an airport hangar for President Donald Trump; attendees did not wear masks or socially distance at the events.[56]
In November 2020, Reynolds issued a statewide mask mandate, ordering anyone over age 2 to wear a mask in indoor public spaces, a reversal of previous claim that face masks are merely a "feel good" measure. When issuing the order, Reynolds said, "No one wants to do this. I don't want to do this," adding "If Iowans don't buy into this, we'll lose. Businesses will close once again, more schools will be forced to go online, and our health care system will fail."[75]
In February 2021, while the pandemic was still going on, Reynolds rolled back requirements on face masks in indoor public places, as well as rolled back restrictions on indoor dining.[76] Reynolds decided to lift the public health measures without consulting with experts at the Iowa Department of Public Health.[77][78] The CDC urged states not to loosen their COVID-19 public health measures.[77]
In May 2021, Reynolds signed a bill into law that prohibited businesses and local governments from requiring customers to have proof of vaccination.[79] She also signed a bill into law that prohibited school districts from requiring the use of masks.[79]
Personal life
Reynolds married Kevin Reynolds in 1982. They have three daughters; Jennifer, Nicole and Jessica.[80] and eleven grandchildren.[81]
Electoral history
Iowa Senate history
2008 primary
Iowa State Senate District 48 Republican primary election, 2008
Party
Candidate
Votes
%
±
Republican
Kim Reynolds
2,487
61.77
Republican
Jim Parker
1,539
38.23
2008 general election
Iowa State Senate District 48 general election, 2008
Party
Candidate
Votes
%
±
Republican
Kim Reynolds
14,274
52.97
Democratic
Ruth Smith
11,653
43.24
Independent
Rodney Schmidt
1,021
3.79
Gubernatorial elections
2010
2010 Iowa gubernatorial election[10]

Party
Candidate
Votes
%
±%
Republican
Terry Branstad / Kim Reynolds
592,494
52.8%
+8.2
Democratic
Chet Culver (incumbent) / Patty Judge (incumbent)
484,798
43.2%
-10.8
Iowa Party[82]
Jonathan Narcisse / Richard Marlar
20,859
1.9%
n/a
Libertarian
Eric Cooper / Nick Weltha
14,398
1.3%
+0.7
Independent[83]
Gregory Hughes / Robin Prior-Calef
3,884
0.4%
n/a
Socialist Workers
David Rosenfeld / Helen Meyers[84]
2,757
0.3%
+.05
Write-in
n/a
2,823
0.3%
n/a
Majority
108,238
Turnout
1,133,430
Republican gain from Democratic
Swing
2014
2014 Iowa gubernatorial election[85]

Party
Candidate
Votes
%
±%
Republican
Terry Branstad (incumbent) / Kim Reynolds (incumbent)
666,032
58.99%
+6.18%
Democratic
Jack Hatch / Monica Vernon
420,787
37.27%
-5.94%
Libertarian
Lee Deakins Hieb / Tim Watson
20,321
1.80%
+0.52%
Independent
Jim Hennager / Mary Margaret Krieg
10,582
0.94%
N/A
Iowa
Jonathan R. Narcisse / Michael L. Richards
10,240
0.91%
-0.95%
n/a
Write-ins
1,095
0.09%
-0.16%
Total votes
'1,129,057′
'100.0%'
N/A
Republican hold
2018
In June 2017, Reynolds stated that she would seek a full term as Governor of Iowa in the 2018 election.[86]
Reynolds' decision to have Rep. Steve King co-chair her campaign stirred controversy, as King has a history of remarks that have been described as racist.[87] The Des Moines Register editorial board wrote, "Gov. Kim Reynolds has kept him on as her campaign co-chairman, while muttering increasingly thin-lipped denials that she agrees with his ideological extremism."[88] Reynolds had previously praised King, saying he was "a strong defender of freedom and our conservative values".[89] After Election Day, Reynolds criticized King and said that he needed to change his approach.[90]
Reynolds won the Republican nomination for Governor and defeated Democrat Fred Hubbell and Libertarian Jake Porter in the general election on November 6, 2018.[91] Reynolds made history as the first woman elected Governor of Iowa.[92] While polls showed that she was trailing Hubbell,[93] she defeated him, 50.3%–47.5%. She won primarily by sweeping nearly the entire state west of Des Moines.[94] In particular, she dominated the state's 4th congressional district, which she carried with almost 61 percent of the vote.[95]
Iowa gubernatorial election, 2018[96]

Party
Candidate
Votes
%
±%
Republican
Kim Reynolds (incumbent) / Adam Gregg
667,275
50.26%
-8.73%
Democratic
Fred Hubbell / Rita R. Hart
630,986
47.53%
+10.26%
Libertarian
Jake Porter / Lynne Gentry
21,426
1.61%
-0.19%
Independent
Gary Siegwarth / Natalia Blaskovich
7,463
0.56%
N/A
n/a
Write-ins
488
0.04%
-0.05%
Total votes
'1,327,638′
'100.0%'
N/A
Republican hold
See also
References
External links
Recent Elections
2018 Governor
Kim Reynolds (R)
667,275
50.3%
Fred Hubbell (D)
630,986
47.5%
Jake Porter (L)
21,426
1.6%
Gary Siegwarth ()
7,463
0.6%
Other (Write-in)
488
TOTAL
1,327,638
Source: Ballotpedia
Finances
REYNOLDS, KIM K has run in 5 races for public office, winning 5 of them. The candidate has raised a total of $34,494,943.
Source: Follow the Money
Voting Record
See: Vote Smart
Issues
Economy
Building Tomorrow's Economy Today
Maintaining Iowa's vibrant economy and fiscal health ensures our ability to invest in things that matter most to everyday Iowans — quality education, job creation, health care and maintaining our quality of life.
Invest In Iowa Act
In 2018, Governor Reynolds signed into law a historic tax cut for Iowans and a plan to modernize the state's tax structure over time. Building on that momentum, Governor Reynolds proposes to cut income taxes even further to benefit the health of our economy and Iowa families. Implementing an additional 1-cent sales tax will increase Iowa's revenue by $540 million, enabling the following:
Create additional tax relief, improving Iowa's competitive position and allowing Iowa families to keep more of what they earn.
Fully fund the Natural Resources and Outdoor Recreation Trust Fund, further improving Iowa's water quality and quality of life.
Fully fund Iowa's Regional Mental Health System, ensuring that every Iowan has the opportunity to be healthy and well.
Expanding Tax Relief
Governor Reynolds is committed to reducing taxes to ensure that hardworking Iowans are able to keep more of their hard-earned dollars.
Cut individual income tax by 10 percent on average in 2021.
Lower the highest tax rate from 8.5 percent to  5.5 percent by 2023.
Reduce the number of tax brackets from nine to eight in 2021, and further reduce to four brackets  in 2023.
Reduce property taxes by lowering the per capita county mental health levy from $47.28 to $12.50, resulting in lowering the maximum statewide mental health levy by $77.1 million.
Repeal water excise tax.
Exempt diapers and feminine hygiene products from sales tax.
Increase the Early Childhood Development and Child and Dependent Care tax credits by doubling the maximum net income amount for eligibility from $45,000 to $90,000.
Improving Water Quality and Quality of Life
In 2010, Iowans voted to amend the constitution and create the Natural Resources and Outdoor Recreation Trust Fund with the purpose of "protecting and enhancing water quality and natural areas in this state." To date, the trust has remained unfunded.
3/8 of the proposed 1-cent sales tax will provide the necessary, sustainable funding for the trust, totaling approximately $172 million
$100+ million will be committed to water quality efforts.
$55+ million will be allocated to conservation and recreation.
$15+ million in matching funds will be available to support local projects
Adjustments to Iowa Code Chapter 461 are proposed to acknowledge the nutrient reduction strategy as the foundation of the state's water quality efforts, and ensure periodic reviews of the code are conducted to comply with the most current evidence-based practices and policies.
Supporting a Strong, Sustainable Mental Health System
In 2018, Governor Reynolds signed two bills into law expanding mental health services for Iowans and advancing suicide prevention. In 2019, the Governor successfully established Iowa's first Children's Mental Health System with overwhelming support from the Legislature.
Much progress has been made creating the foundations of these systems, but there remains work to be done to support access to quality mental health services for Iowans of all ages.
Invest $80+ million in state appropriations toward the mental health system to create more stability for regions and counties.
State investment will be coupled with a statewide mental health levy cap reduction to reduce property tax burdens.
State and regional partnership in furthering the mental health system access and quality will be a more efficient and predictable use of taxpayer dollars.
Education
Preparing a Future Ready Iowa
Iowa's greatest opportunity for economic growth is to build a workforce that's nimble, highly skilled and filled with lifelong learners. Today, we are experiencing a shortage of skilled workers across every region of our state and all types of industries — from manufacturing and skilled trades, to health care and information technology. But through dynamic public-private partnerships, we've implemented innovative solutions that start in our schools and continue in the workplace to ensure that opportunity lives here.
PreK-12 Education
Building Iowa's workforce starts at school. In today's knowledge economy, it is more important than ever that our schools are preparing students for 21st-century careers. We can be proud of our focus on STEM (science, technology, engineering and math) education and work-based learning experiences, and should continue to build on our foundation. Following a historic investment in preK-12 education in 2019, the Governor proposes we again increase education funding:
$100+ million in NEW preK-12 education funding, including $5.5 million in new funding for transportation equity.
Computer Science
Computer science is a modern-day basic skill that every student must have to be successful in the workplace. We must invest in developing computer science educators and increasing learning opportunities for K-12 students to ensure Iowa's workforce of the future will thrive.
In 2020, the Governor proposes:
Developing and implementing a statewide K-12 computer science plan that includes options for classroom and virtual instruction by July 1, 2021.
Requiring accredited high schools to offer at least one semester of computer science by July 1, 2021.
Requiring accredited elementary and middle schools to provide computer science in at least one grade level each by July 1, 2022.
Work-Based Learning
Hands-on, real-world projects help students explore career possibilities at an early age and discover what interests them. To continue Iowa's progress in integrating work-based learning into the overall education experience, the Governor proposes:
Growing the virtual Iowa Clearinghouse for WorkBased Learning by creating more school-business partnerships that engage K-12 students in authentic, professional experiences.
Adding work-based learning coordinators to positions covered by operational sharing to expand opportunities for students to connect the classroom to future careers through face-to-face, school-business partnerships.
Continuing the Summer Youth Intern Pilot Program to increase opportunities for students at risk of not graduating from high school to learn employability skills.
Expanding summer dual enrollment funding to $1 million so more high school students can prepare for high-demand careers by earning college credit.
Future Ready Iowa Act
In 2018, Governor Reynolds signed the Future Ready Iowa Act, launching an aggressive workforce policy initiative to ensure that 70 percent of Iowans in the workforce achieve training or education beyond high school by the year 2025. In 2019, Future Ready Iowa made a positive impact on the lives of thousands of Iowans seeking new opportunities.
The Last Dollar Scholarship is providing more than $13 million to 6,000+ students enrolled in community and private college programs leading to high-demand jobs. Nearly 80 percent of scholarship recipients are adult learners. Additionally, dozens of Iowa companies, schools and community organizations were awarded $1.2 million through the Employer Innovation Fund, a matching grant program to help fund local education and workforce development initiatives.
In 2020, the Governor proposes continuing to build on the success of Future Ready Iowa with additional investment and new initiatives, creating even more pathways to high-demand careers:
Expanding the Last Dollar Scholarship program by increasing funding to $15.8 million and broadening eligibility by allowing more flexibility in enrollment requirements.
Expanding the Employer Innovation Fund to $4 million and launching the Child Care Challenge Fund to help with the construction, renovation or remodeling of child care facilities.
Launching Early Career IA, a career pathway for new high school graduates pursuing college while working in hard-to-fill, high-demand positions in their professional field of interest and holding down student loan debt.
Expanding the 15C Registered Apprenticeship program by providing funding for training for small- to mid-sized businesses with 20 or fewer Registered Apprentices in high-demand occupations.
Child Care
One of the most significant barriers to entering the workforce is the availability and affordability of child care. Twenty-three percent of Iowans live in child care deserts. Over the past five years, Iowa has lost 40 percent of its child care businesses and it's estimated there is a shortfall of more than 350,000 child care slots across the state. The child care crisis is not only affecting families, it's impacting the state's workforce at a time when Iowa is missing out on nearly $675 million in annual GDP because of a shortage of employees. The Governor proposes the following initiatives in 2020 to address this issue and create opportunities for more Iowa families:
Increasing the number of families that qualify for the Early Childhood Development (ECD) and Child and Dependent Care (CDC) tax credits by doubling the maximum net income amount for eligibility from $45,000 to $90,000.
Expanding eligibility for child care assistance by implementing a tiered copay system for families earning 185 percent up to 225 percent of the federal poverty level. As a family's income increases, so does their child care cost share to the state. This puts families on a path to self-sufficiency and alleviates the child care cliff effect.
Changing the definition for "infant and toddler" to include children age two weeks to three years, and for "preschool" to include children three years to school age. By changing the definitions, child care providers will receive a higher reimbursement rate.
Creating the Child Care Challenge Fund within the Employer Innovation Fund, a matching grant program to help with the construction, renovation or remodeling of child care facilities.
Professional Licensing Reform
One-fourth of Iowans require a license to practice their chosen profession — the second highest rate in the nation. Strict licensing requirements do not necessarily result in better safety, but do disproportionately impact certain populations, including new Iowa residents, low-income individuals, and those with criminal convictions. These barriers also cost Iowa an estimated 48,000 jobs and $290 million. To prevent licenses from restricting employment opportunities, the Governor proposes the following:
Adopting universal licensing recognition to allow professionals licensed in other states (for at least one year) to practice in Iowa if they are in good standing, pay applicable fees and meet all residency, testing and background check requirements.
Waiving initial licensing fees for first-time applicants from families earning less than 200 percent of the federal poverty level.
Creating a consistent standard so that when licensing entities review applicants with conviction records, they consider whether the circumstances of the crimes are directly related to the licensed profession, and provide a process for an individual with a criminal record to receive a predetermination of eligibility.
Improving licensure oversight by creating a Review Commission on Licensure Standards that would subject boards and commissions that oversee professional licenses to a review every four years.
Learn More About The Governor's Vision for Iowa
Health Care
Supporting Strong & Healthy Families
Iowa is not immune from the health care challenges occurring nationally. Rising costs and a shortage of healthcare providers makes access to services more challenging in some areas of our state, especially rural communities. Health care the way it exists today may not be sustainable in some areas. But with change comes the opportunity to create a more integrated, coordinated system based on the needs of the state and local communities, promoting the health and wellness of every Iowan.
Mental Health
In 2018, Governor Reynolds signed two historic bills into law expanding mental health services for Iowans and advancing suicide prevention. In 2019, the Governor successfully established Iowa's first Children's Mental Health System with overwhelming support from the legislature. After decades of talking about what should be done to improve mental health, solutions are now in place so core services are available statewide to address the needs of Iowa's adults, children and families. This year, to support a strong, sustainable mental health system for generations to come, the Governor proposes the following:
$80 million in state appropriations invested in the mental health system to create more stability for regions and counties.
State investment will be coupled with county mental health levy cap reductions to reduce property tax burdens.
State and regional partnership in furthering the mental health system access and quality will be a more efficient and predictable use of taxpayer dollars.
Maternal Health
Fifty of Iowa's 99 counties provide obstetric (OB) services, and the number of hospitals with OB doctors on staff has decreased over the last several years. Since 2000, 34 hospitals have closed OB services due to declining population and inability to recruit and retain physicians willing or able to provide OB care. In order to improve access to maternal care for expectant mothers and their babies across our state, the Governor proposes the following:
$400,000 for a Family Medicine OB/GYN Fellowship program that will offer four physician fellows a year of specialized OB/GYN training following the three-year family medicine residency.
Expand access to telementoring technology to enable specialty conferences between OB/GYNs and family medicine physicians.
Improve access to preventative care and contraception by passing legislation introduced in 2019 that would allow eligible individuals to receive a self-administered hormonal contraceptive prescription from a pharmacist without proof of a prior prescription from a primary care provider.
Telehealth
In the last several years, technology has enhanced our lives in many ways, and health care is no exception. As the use of telehealth has increased, it has proven to be a useful tool to get care to people at the right time and in the most convenient place. Telehealth also presents a unique opportunity to expand access to care that is limited in some areas, including mental health services. As such, the Governor proposes the following:
$5 million state appropriation for the further expansion of telehealth providers and sites of service in the Medicaid program.
Allow schools to be recognized as a site of service so telehealth services can be provided to students during the school day.
Substance Abuse Treatment
A lack of funding for substance abuse treatment programs and facilities means that a growing number of Iowans are unable to get the help they need to overcome an addiction. Substance abuse providers have not had a Medicaid rate increase in years and, as a result, waitlists continue to grow and programs have closed. The Governor proposes the following Medicaid rate increases so that Iowans suffering from substance use issues have access to the care they need and deserve:
$2.8 million state appropriation increase for residential substance use treatment Medicaid services.
$3.4 million state appropriation increase for outpatient substance use treatment Medicaid services.
Community-Based Services
The Governor acknowledges the importance of home and community-based care for aging and disabled individuals, and the difference these services make in maintaining health and quality of life. In an effort to improve funding levels for service providers for the state's Home and Community-Based Services and Habilitation Medicaid programs, the Governor proposes:
Across the board increase in funding equivalent to $3.3 million in state appropriations.
Centers of Excellence Pilot Program
Health care is changing, and Iowa must adapt. Declining populations in some communities are resulting in lower volumes of patients, and local hospitals and health systems are struggling to sustain all the services they have historically provided. We must identify new ways to provide quality, sustainable care that meets the needs of our communities. As such, the Governor is proposing a Centers of Excellence pilot program to encourage innovation and collaboration among regional health care providers with the purpose of transforming care delivery for the better:
$500,000 state appropriation will be supplemented by community investments for this matching grant program.
Grants will be awarded to two proposals that demonstrate regional collaboration to assess targeted medical needs of local residents, and establish partnerships between rural hospitals and health systems to leverage resources and develop a business model for long-term sustainability.
Empowering Rural Iowa
Rural Iowa is the heart and soul of who we are as a state and a people. Our unwavering support of Iowa's farm families and continued investment in our small towns will ensure opportunity abounds in every rural community.
Supporting Iowa's Agriculture Economy
Agriculture is the backbone of our state, and we will seize opportunities to keep our farm economy strong. Iowa stands with our hardworking farmers and producers, and will continue to support our agricultural heritage. In 2020, the Governor proposes:
$2 million increase for the Renewable Fuels Infrastructure Program (RFIP) to expand access and increase demand for our homegrown renewable fuels.
Modernize renewable fuel programs to support the sale of E15 and higher blends year-round.
$500,000 increase for foreign animal disease preparedness to protect our state's livestock industry and economy.
The Governor's Empower Rural Iowa Initiative
In 2019, Governor Reynolds signed the Empower Rural Iowa Act, providing support to ensure vibrant rural communities today and for generations to come.
Connecting Rural Iowa
Expanding broadband access will support high-tech jobs, precision agriculture, quality education, local economies and the limitless opportunities connectivity makes possible. In 2020, the Governor proposes:
$15 million in total funding to optimize the existing Broadband Grant Program, a $10 million increase from last year.
Increase the state match for broadband projects with higher levels of speed and service.
Continue to improve and update broadband connectivity maps.
Investing in Rural Iowa
Our continued investment in Iowa's small towns has a big impact on the vitality and
economies of rural communities. In 2020, the Governor proposes:
$400,000 increase in funding for the DNR's Derelict Buildings program.
Continue the small cities set-aside for the Workforce Housing Tax Credit program.
Continue support for Rural Housing Assessment grants created last legislative session.
Growing Rural Iowa
Nurturing and developing rural leadership helps ensure the strength of our communities for the next generation. In 2020, the Governor proposes:
$100,000 to create a matching grant for conducting community visioning programs.
$25,000 to create a matching grant for communities starting up formal leadership programs.
$25,000 to support rural Iowa leadership development events.
Have an idea for how Iowa can help address the needs and problems that farmers face today? Fill out the empower rural Iowa idea form.
Changing Lives Through Second Chances
Opportunity must exist for all Iowans, including those seeking a second chance to build a positive, productive life. Reforming Iowa's criminal justice system and making sure the right opportunities are available for citizens re-entering our communities is a lasting legacy that this generation of Iowans must leave the next.
Felon Voting
Iowa is the only state in the nation where all convicted felons lose their right to vote unless they apply to the Governor for restoration. In 2019, Governor Reynolds proposed a constitutional amendment that would restore felon voting rights upon discharge after completion of their sentences. Overwhelming support by the Iowa House last year established that broad support exists to resolve this issue. This year, it is time to take the next step and make this happen.
Criminal Justice Reform
Working to achieve a less-biased, more opportunity-focused system is critically important to protecting public safety and building stronger communities.
In 2019, Governor Reynolds appointed the FOCUS Committee on Criminal Justice Reform to continue to build on our progress. Based on the committee's recommendations, our priorities for 2020 include:
Expanding treatment capacity in Iowa's correctional facilities and realign community-based resources to focus on treatment following re-entry.
Streamlining conviction review for occupational licensing.
Supporting Successful Re-entry
Preparing inmates to successfully re-enter society is in the best interest of our state. Iowa's Department of Corrections takes an innovative approach to providing inmates with unique education opportunities and work-based learning experiences that prepare them for life and work after incarceration. To continue to advance these efforts this year, Iowa will focus on:
Creating a competitive grant program to support and enhance the re-entry efforts of nonprofit organizations.
Establishing the Second Chance Employer designation for businesses that hire re-entering citizens.
Assisting individuals nearing release or discharge from prison with obtaining a driver's license if eligible.
Connecting individuals not eligible for a driver's license with the Department of Transportation's Get There Your Way program, increasing awareness of alternative transportation options including public transit.
Increasing completion of the HiSET (high school equivalency test) among incarcerated individuals over the age of 21.
Creating a post-release educational pathway for re-entering individuals who want to continue pursuing post-secondary education.