News
i
Washington, D.C. – Representative Ashley Hinson (IA-01) held a town hall in Tama County today as she continues to follow through on her commitment to being transparent and accessible to her constituents. Questions from constituents were not pre-screened or filtered.
"Thank you to everyone who joined my town hall in Tama County today. We had a great discussion on a wide range of issues including the border crisis, runaway government spending, and concerns about the Administration's plan to eliminate stepped-up basis. 
"The feedback I received today will be invaluable when I head back to Washington soon—I'll keep bringing the kitchen table issues to Congress and proposing common sense solutions to the real challenges Iowans are facing." 
–Congresswoman Ashley Hinson
Summary
Current Position: US Representative for IA 1st District since 2021
Affiliation: Republican
Former Position(s): State Delegate from 2017 – 2021
Featured Quote: 
Here's the deal: President Trump's policies at the border worked. We need to finish construction of the border wall. We need to end catch and release. President Biden can do these two things today. He needs to now. #IA01 #IApolitics
Featured Video: 
Infrastructure spending needs to have bipartisan support: Rep. Ashley Hinson
About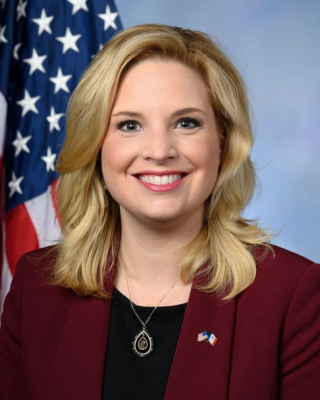 Source: Government page
A native Iowan, Ashley has served her home state in various capacities over the years.
She grew up in Des Moines, and after receiving her B.A. in Broadcast Journalism from the University of Southern California, she moved to the Cedar Rapids area to work and raise a family. She currently lives in Marion with her husband, Matt, who is a small business owner and their two sons, Max and Jax.
For nearly a decade, Ashley was an on-air reporter for KCRG-TV in Cedar Rapids. She traveled throughout the state to cover issues that mattered to Iowans and tell their stories on air. During her time as a reporter she won multiple accolades, including two Midwest regional Emmy awards and recognition as both a RTDNA Health Reporting Fellow and a Waypoint Tribute to Women Honoree.
Her reporting career inspired her to serve Iowans in a different way– by running for a seat in the Iowa State House. In 2017, she became the first woman to represent Iowa's 67th district, which includes Hiawatha, Robins, Cedar Rapids and Marion. During her tenure, she was a fierce advocate for taxpayers, helping to cut taxes and reign in irresponsible spending. She also championed workforce development and rural broadband initiatives and helped make childcare more accessible for working parents across Iowa.
Ashley is deeply involved in her community. She belongs to Antioch Christian Church, and is a member of March of Dimes, Young Parents Network and the National Council on Youth Leadership.
Ashley now represents Iowa's First District in Congress and fights each day for Iowa families, businesses, and farmers.
Voting Record
Caucuses 
Offices
Web
Government Page, Campaign Site, Twitter, Facebook, LinkedIn, Wikipedia
Twitter
Politics
Source: none
Campaign Finance
Open Secrets – We Follow the Money
Voting Record
VoteSmart – Key Votes & Ratings
Search
Wikipedia Entry
Ashley Elizabeth Hinson (née Arenholz; born June 27, 1983)[1] is an American politician and journalist serving as the U.S. Representative for Iowa's 1st congressional district since 2021. A member of the Republican Party, her district comprises much of the northeast quadrant of the state, including Cedar Rapids, Waterloo, Cedar Falls and Dubuque.
Hinson was the Iowa State Representative for the 67th district from 2017 to 2021, the first woman to represent the district.[2] She won a seat in the United States House of Representatives in the 2020 election, narrowly defeating incumbent Democrat Abby Finkenauer. Hinson, along with Rep. Mariannette Miller-Meeks, are the first Republican women to represent Iowa in the U.S. House of Representatives.
Early life, education and career
A native of Des Moines, Iowa, Hinson is a graduate of Valley High School in West Des Moines and the University of Southern California, where she studied broadcast journalism.[3] She is an alumna of the Pi Beta Phi sorority.[4] Hinson began her career as an anchor for KCRG-TV.[5]
Iowa House of Representatives
Elections
In 2016, Hinson decided to run for Iowa's 67th House District, based in Linn County, Iowa. She defeated Democrat Mark Seidl 62.5%-37.5%.[6]
This Cedar Rapids suburban district is very competitive politically. 2016 Democratic presidential nominee Hillary Clinton won this district over Donald Trump by two percentage points.[7]
In 2018, Hinson faced a competitive race against teacher Eric Gjerde. She defeated him, 52%–48%.[8][9]
Committee assignments
Hinson served on several committees in the Iowa House – the Judiciary committee; the Public Safety committee; and the Transportation committee, where she was chair. She also served on the Transportation, Infrastructure, and Capitals Appropriations Subcommittee.
U.S. House of Representatives
Elections
On May 13, 2019, Hinson filed paperwork to run against Democratic incumbent Abby Finkenauer in Iowa's 1st congressional district.[7]
The district, which encompasses 20 counties in northeastern Iowa, was flipped in the 2018 election.[10] Hinson was announced as a "contender" by the National Republican Congressional Committee. She was endorsed by Iowa Governor Kim Reynolds and Lieutenant Governor Adam Gregg.[11] On June 2, 2020, Hinson won the Republican primary.[12]
Hinson focused her campaign on cutting taxes and building infrastructure.[2] In July 2020, The New York Times reported on several instances of Hinson's campaign website plagiarizing portions of articles from media outlets. Hinson said she "was unaware of the plagiarism when I reviewed drafts presented to me by staff. As a journalist I take this extremely seriously and am deeply sorry for the mistake. The staff responsible will be held accountable."[13][14]
Hinson beat incumbent Democrat Abby Finkenauer in the November general election.[15]
Tenure
Hinson, along with all other Senate and House Republicans, voted against the American Rescue Plan Act of 2021.[16]
Committee assignments
Caucus memberships
Electoral history
Personal life
On November 12, 2020, Hinson tested positive for COVID-19.[23]
See also
References
External links
Issues
Source: Government page
Committees
Legislation
Issues