News
i
OTTUMWA, I.A.—Today, September 2nd, 2021, Rep. Mariannette Miller-Meeks (IA-02) announced that two federal grants have been awarded to fire departments in Iowa's Second District.
The fire departments for the cities of Burlington and Osceola were recently awarded grants from the Department of Homeland Security (DHS) Fire Prevention and Safety (FP&S) Grant program. This program is administered by the Federal Emergency Management Agency (FEMA) in cooperation with the U.S. Fire Administration.
Through the grants, the City of Burlington will receive $91,883.64, and the City of Osceola will receive $180,223.33 to support fire prevention and safety.
"I am thrilled to see FEMA award grants to two deserving Iowa fire departments. These grants will go a long way to supporting the fire departments in Burlington and Osceola," said Miller-Meeks. "I applaud DHS and FEMA for working to assist our local fire companies. As a member of the Homeland Security Committee, with jurisdiction over DHS and FEMA, I look forward to continuing to work to support Iowans wherever I can."
Summary
Current Position: US Representative for IA 2nd Distridt since 2021
Affiliation: Republican
Former Position(s): State Senator from 2019 – 2021; Director of the Iowa Department of Public Health from 2011 – 2014
Featured Quote: 
No one is more worthy of experiencing open access to the incredible places that the men and women have fought to keep us free and their families who have also made the ultimate sacrifice along with them. #VIPAct
Featured Video: 
Sen. Mariannette Miller-Meeks
About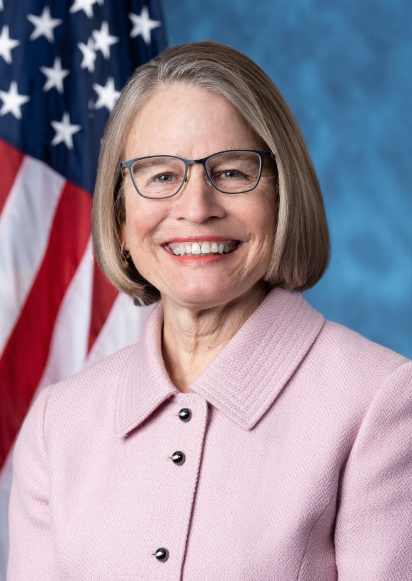 Source: Government page
Mariannette's father was a Master Sergeant in the United States Air Force who was forced to take up extra work, sometimes two or three jobs, to support their family. Her mother, who did not have a high school education, also worked multiple jobs.
Mariannette originally dreamed of becoming a teacher because she loved school and wanted to share her passion for learning with others. However, in 10th grade, she was severely burned in a kitchen fire. While at the hospital, Mariannette was treated by a physical therapist who went out of her way to make sure she got better. This woman's kindness and selflessness inspired her to become a doctor so she could help others.
Mariannette was the fourth of eight children and since her parents did not have the means to pay for college, she left home at 16 and enrolled in community college. She later enlisted in the United States Army at 18, where she served for 24 years as a private, nurse, and doctor (ophthalmologist or eye diseases/surgery.) She went into private practice in Ottumwa in 1997 and she has remained there with her husband, Curt.
Mariannette has two grown children, Jonathon and Taylor. In 2010, Governor Terry Branstad appointed her as the Director of the Iowa Department of Public Health where she served until 2014.
In 2018, the voters of Senate District 41 elected Mariannette to fight for them in the Iowa State Senate. She resigned from the state senate on January 2, 2021 to take her seat in the United States House of Representatives.
Voting Record
Caucuses 
Aluminum Caucus
Biofuels Caucus
Bus Caucus
General Aviation Caucus
GOP Healthy Futures Task Force
Grid Innovation Caucus
Motorcycle Caucus
Pandemic Preparedness Caucus, Co-Chair
Pro-Life Caucus
Public Schools Caucus, Co-Chair
Rural Broadband Caucus
Small Business Caucus
Sportsmen's Caucus
Steel Caucus
Taiwan Caucus
Telehealth Caucus
Women, Peace, and Security Caucus
Offices
1716 Longworth House Office Building
Washington, DC  20515
Contact
Email:
Web
Government Page, Campaign Site, Facebook, Twitter, LinkedIn, Wikipedia
Twitter
Politics
Source: none
Campaign Finance
Open Secrets – We Follow the Money
Voting Record
VoteSmart – Key Votes & Ratings
Search
Wikipedia Entry
Mariannette Jane Miller-Meeks (born September 6, 1955) is an American physician and politician serving as the U.S. Representative for Iowa's 2nd congressional district. The district includes most of Iowa's southeastern quadrant, including Davenport, Bettendorf, Burlington, Iowa City, and Miller-Meeks's hometown of Ottumwa.
Miller-Meeks ran three unsuccessful campaigns for the U.S. House against Dave Loebsack. When Loebsack retired in 2020, she ran again and defeated Rita Hart by a margin of just six votes. She also served as Iowa State Senator for the 41st district from 2019 to 2021.
Early life
Miller-Meeks was born in Herlong, California in 1955.[1] She enlisted in the United States Army at the age of 18 and served for 24 years, including as a nurse, physician, and member of the United States Army Reserve. She retired at the rank of lieutenant colonel.
A first-generation college student, Miller-Meeks earned a Bachelor of Science in Nursing degree from Texas Christian University, a Master of Science in education from University of Southern California, and a Doctor of Medicine from University of Texas Health Science Center at Houston.[2]
Career
Miller-Meeks operated a private ophthalmology practice in Ottumwa, Iowa, until 2008. She also served as the first female president of the Iowa Medical Society. She was the first woman on the faculty of the University of Iowa's department of ophthalmology and visual sciences, and worked as a representative from Iowa to the American Academy of Ophthalmology.[2] In 2010, Governor Terry Branstad appointed Miller-Meeks director of the Iowa Department of Public Health; she resigned in 2014 to run for Congress.[3][4]
U.S. House of Representatives
Elections
2008–2014
Miller-Meeks was the Republican nominee for Iowa's 2nd congressional district in 2008, 2010 and 2014, losing to Dave Loebsack in all three races. When Mark Chelgren announced he was not running for reelection, she ran for Iowa Senate, District 41 in 2018, defeating Democratic nominee Mary Stewart.[5] Her term in the Iowa Senate began January 14, 2019.
In her 2014 campaign, Miller-Meeks opposed the Affordable Care Act (Obamacare).[1] She also stated her opposition to legalized abortion except in cases of rape, incest, or harm to the mother.[1] Of same-sex marriage, she said in 2014 that she favors "traditional marriage."[1] She criticized EPA regulation of waterways and coal plants, saying it creates uncertainty for farmers.[1]
2020
Miller-Meeks ran to represent Iowa's 2nd congressional district again in 2020, following Loebsack's retirement.[6] She won the June 2 Republican primary election, defeating former Illinois Congressman Bobby Schilling.
During the COVID-19 pandemic, she said she "practices social distancing, wears a mask in public and sanitizes her hands" but does not support face mask mandates.[7]
She faced the Democratic nominee, former State Senator Rita Hart, in the November general election.[8] After Loebsack announced his retirement, journalists and election forecasters labeled the 2nd congressional district a swing district. Miller-Meeks defeated Hart in the general election by six votes, making this the closest election in 2020 and flipping Iowa's 2nd Congressional District from Democratic to Republican control in one of the closest races in 100 years; the state certified the victory.[9][10] Hart contested the certified result through a petition with the Committee on House Administration under the 1969 Federal Contested Elections Act, which sets forth procedures for contesting state election results in the House under the Constitution.[11] Hart did not contest the election in Iowa's courts.[11][12][13] In her petition, Hart contended that 22 legally cast votes were not counted. Had they been counted, per her petition, she would have won the race by nine votes.[14][15]
House Speaker Nancy Pelosi provisionally seated Miller-Meeks on January 3, 2021, pending adjudication of Hart's petition.[14][16] The Committee on House Administration reviewed Hart's petition, and Pelosi claimed the House had the authority to expel Miller-Meeks,[17][18] but on March 31, Hart withdrew her challenge.[19]
Miller-Meeks and Michelle Fischbach of Minnesota are the only Republican members of Congress to flip Democratic House districts that were not held by Republicans before 2018.
Tenure
Miller-Meeks, along with all other Senate and House Republicans, voted against the American Rescue Plan Act of 2021.[20]
On May 19, 2021, Miller-Meeks was one of 35 Republicans who joined all Democrats in voting to approve legislation to establish the January 6, 2021 commission meant to investigate the storming of the U.S. Capitol.[21]
Committee assignments[22]
Personal life
Miller-Meeks is a resident of Ottumwa, Iowa. She is married to Curt Meeks, the Compliance Officer at Otumwa Regional Health Center, and has two children.[23][24] She is Roman Catholic.[1] Miller-Meeks organized a physician recruitment and retention organization to help bring physicians to southeast Iowa and has served as a court-appointed special advocate volunteer for children.[2]
Electoral history
2008
2008 Iowa's 2nd congressional district election

Party
Candidate
Votes
%
Democratic
Dave Loebsack (incumbent)
175,218
57.19
Republican
Mariannette Miller-Meeks
118,778
38.77
Green
Wendy Barth
6,664
2.18
Independent
Brian White
5,437
1.78
No party
Others
261
0.09
Total votes
306,358
100.00
Turnout

 

Democratic hold
2010
2010 Iowa's 2nd congressional district election

Party
Candidate
Votes
%
Democratic
Dave Loebsack (incumbent)
115,839
50.99
Republican
Mariannette Miller-Meeks
104,319
45.92
Libertarian
Gary Joseph Sicard
4,356
1.92
Constitution
Jon Tack
2,463
1.08
No party
Others
198
0.09
Total votes
227,175
100.00
Turnout

 

Democratic hold
2014
2014 Iowa's 2nd congressional district election

Party
Candidate
Votes
%
Democratic
Dave Loebsack (incumbent)
143,431
52.48
Republican
Mariannette Miller-Meeks
129,455
47.36
Write-ins
443
0.16
Total votes
273,329
100
Democratic hold
2018
2018 Iowa's 41st senate district primary elections[25]

Party
Candidate
Votes
%
Republican
Mariannette Miller-Meeks
1,706
85.39
Republican
Daniel Cesar
279
13.96
Write-ins
13
0.65
Total votes
2,134
100
2018 Iowa's 41st senate district general election

Party
Candidate
Votes
%
Republican
Mariannette Miller-Meeks
11,451
51.77
Democratic
Mary Stewart
10,632
48.07
Write-ins
36
0.16
Total votes
22,119
100
Republican hold
2020
See also
References
External links
Issues
Source: Government page
Committees
– Subcommittee on Higher Education and Workforce Investment
– Subcommittee on Workforce Protections
– Subcommittee on Emergency Preparedness, Response, and Recovery
– Subcommittee on Transportation and Maritime Security
– Subcommittee on Disability Assistance and Memorial Affairs
Select Subcommittee on the Coronavirus Crisis
Legislation
Issues